A team of students from University of Sydney's law school have brought home gold for Australia, thrashing competitors from around the world in the 2017 Philip C. Jessup International Law Moot Court Competition.
Shining star Alyssa Glass, who is a third year JD student at the University of Sydney, was also named Best Oralist in the world championship round.
Ms Glass, alongside winning teammates Joel Phillips, Will Khun, Harry Stratton and Eric Shi, beat out a team from Jamaica's Norman Manley Law School for top honours.
The win brings the Jessup International Law cup tally to five for the University of Sydney. No other law school in the world has won the prestigious competition that many times.
President of Australia's Jessup Association, Professor Tim Stephens, said the Aussies boast an envious track record.
"It's extraordinary how well Australian teams have done. If you look at the gold medal tally as it were, the United States has won more championships than any other country, which kind of makes sense given that's where the competition was set up," Professor Stephens said.
"But then it's Australia with 13 championships and Singapore with four [wins]. So it's really extraordinary how well Australian teams have done," he said.
The international public law competition is the oldest known global mooting competition, inviting participation from law student competitors worldwide since 1963.
Hosted annually in Washington D.C., the mooting competition simulates proceedings in the International Court of Justice (ICJ) in the Hague. 
A bench comprising ICJ judges James Crawford and Patrick Robinson, as well as former ICJ judge and serving Iran-US Claims Tribunal Judge Bruno Simma, presided over Sydney's winning grand final performance.  
Australia was also represented in this year's Jessup competition by a delegation from the University of Queensland.
Two UQ advocates ranked in the top 20 oralists in Washington, and the Queenslanders' written submissions, known as memorials, were judged as best overall for the international rounds.
Josie Allan, Keilin Anderson, Kate Cincotta, Sophie Ryan and Ben Teng made up the UQ team competiting in Washington. The UQ team also won the award for best respondent memorial.
Professor Stephens said teams began preparations in November to vie for one of two spots open to Australian teams in the international competition. The students had to file two 9,000 word briefs per team by early January, followed by participation in the national competition hosted Canberra in February.
Competing students are allowed one coach and an academic advisor throughout the process and receive academic credit towards their law degree for their involvement in the Jessup moot.
"Jessup is quite an experiential learning unit for students," Professor Stephens said.
"What's very impressive about it, I think, is that we often take students who are not necessarily polished advocates but by the end of the process, they are very accomplished advocates because we give them very intensive training," he said.
This year, global firm White & Case sponsored the Jessup world championships. DLA Piper are the sponsors of the local Jessup competition in Australia.
All photographs copyright A.Zhokva, ILSA.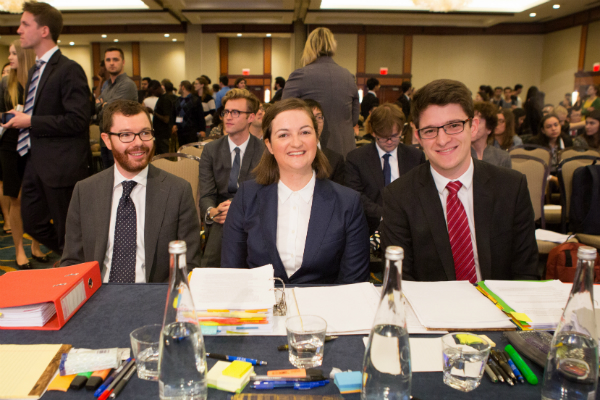 Joel Phillips, Alyssa Glass and Will Khun at the 2017 Philip C. Jessup International Law grand final.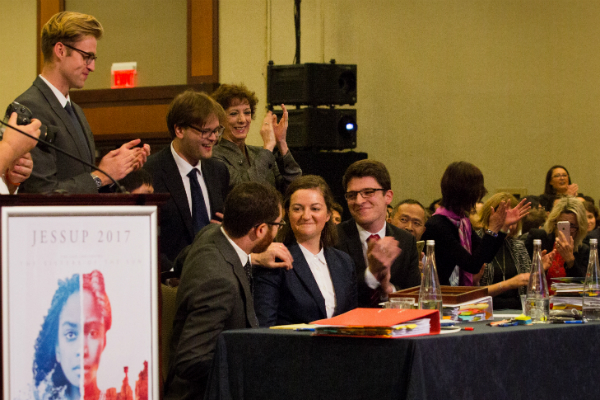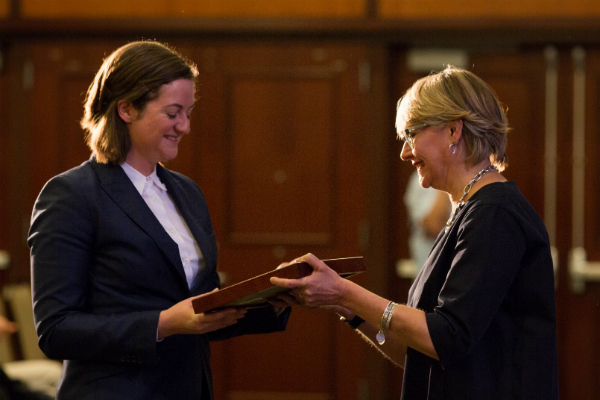 Alyssa Glass (pictured left) receives her award for Best Oralist. 

The winning team from the University of Sydney: Alyssa Glass, Joel Phillips, Will Khun, Harry Stratton and Eric Shi, pictured with coach Angus Nicholas (second from right) and academic advisor Alison Pert (far right).