NewLaw firm speaking the language of entrepreneurs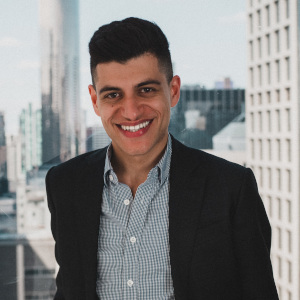 The founder of an Australian NewLaw provider has said that his personal experience and innovative business model give the firm an edge in attracting young entrepreneur clients. 
Demetrio Zema launched Law Squared in March last year, aiming to provide a more compelling service to millennials, entrepreneurs and SMEs than what BigLaw firms were offering.
The firm reported average month-on-month revenue growth of 16 per cent over 12 months to the end of March 2017. Consequently, its team has grown from two to 11.
Speaking to Lawyers Weekly recently, Mr Zema attributed this growth to the firm's relatability to its target market.
"Our approach to working with entrepreneurs has been about what is the most relatable and approachable engagement that they can have, and so working with lawyers that are often in a similar age bracket to them and who are going through similar experiences to them often resonates well," he said.
"Someone like myself, this is my sixth business. The first one was [at the age of] 21 and now Law Squared, [so] I've kind of been through all those hurdles that most entrepreneurs are going through ... which is often very different to traditional lawyers, who may not have necessarily started their businesses."
It was his own experience as an entrepreneur that led Mr Zema to launch Law Squared, having experienced difficulty in finding legal assistance to meet the needs of a young business. He emphasised that younger clients have the same legal needs but expect a different service.
"It's more about education, accessibility and kind of a personable approach, so we can have an ongoing understanding about what it is and why they need legal support, so they can see value in what lawyers add to their business.
"We do a lot of education around some of those key areas of starting a business or growing a business or recapitalising, all those areas which entrepreneurs need and want.
"It's not something you charge for but at least you're providing that in a more meaningful way, rather than being the wealth of knowledge, which you expect to be paid for by virtue of just having that knowledge."
Law Squared also differentiates itself through its billing model, which Mr Zema said gives clients greater certainty than they experience with traditional firms.
"We do no time billing, internally or externally, so none of our lawyers are measured by time at all and no one has monetary budgets," he said.
"We've removed that element and therefore our billing model is on a fixed fee or ad hoc basis or a retainer membership basis, if you like. 
"[Start-ups often have] cash flow issues and budgeting issues, and even when they're pitching for investment they can have a certainty on what their legal spend might be for certain projects. It provides much more certainty than your traditional model."
Mr Zema said this business model has been well-received by clients, with as many as 95 per cent of the firm's clients coming from referrals and word of mouth. He added that although some clients may view him as too young or inexperienced, his age is a selling point for millennials.
"We target a level of business owner who we relate to and who relates to us," he said.
"I think most of our clients are between the ages of 25 and 40, and they are Millennial or late Gen X-type entrepreneurs who relate to what it is that we do.
"Sure, there might be some older-perceived clients who might think that due to age there is a barrier, but they're not clients that we're working with and typically they're not clients that are attracted to a NewLaw model.
"I think that's kind of why we still have two very clear areas of law: one is old law or BigLaw, if you like, and [the other is] this NewLaw model, which is attracting a different type of client."