Bravery (at work) and pregnancy go hand-in-hand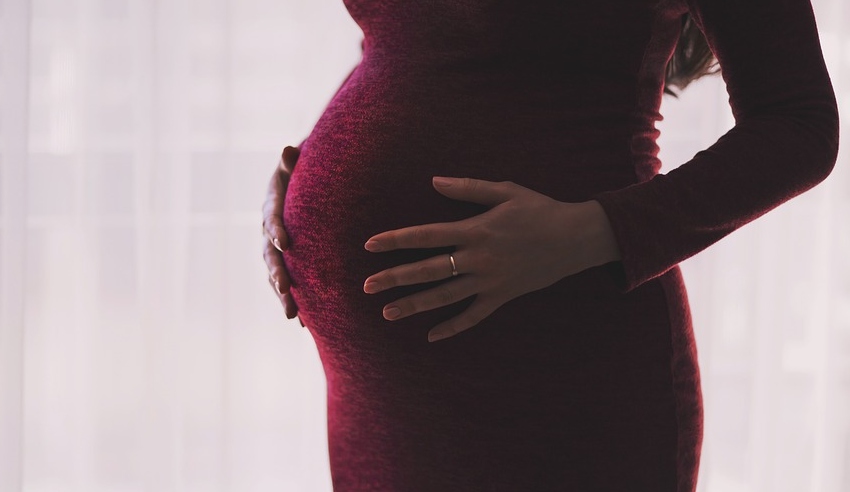 I've recently just announced that I'm leaving a wonderful firm to join an innovative NewLaw firm. This wouldn't normally be that newsworthy but at nine months pregnant I'm getting quite a lot of interest in my decision, writes Catherine Brooks.
Sure, I'm taking a risk by moving firms, it's always a risk. And yes there are differing benefits and entitlements (not worse, just different). But there's nothing quite like the impending arrival of a baby to really make you consider what you truly want in life and out of your work situation.
The words 'comfortable' and 'relaxing' don't really figure into the life of a heavily pregnant woman, as those of you in the know know. And as our family started growing again with my pregnancy of babe number two, I started thinking about my comfort zone and what I wanted to do with the precious time I spend away from my family.
I've always tried to grow out of my roles, or look at ways that I can expand the work that I'm doing to help clients in different ways. So it's quite common for me to find myself reinventing my job or being put onto a new project at work. Change certainly excites me rather than scares me and I get that that's unusual.
But with the (hopefully founded) confidence of one baby under my belt, failures and lessons learned (with more to come I'm sure), I took encouragement from my mother, who has had four children and now operates a successful business of her own. She said "take the leap of faith" and so I made the big decision to move firms despite the impending arrival of a newborn.
I also took encouragement from Demetrio Zema, the founder of Law Squared and my new employer, for not being scared off by my growing belly! I was upfront about my pregnancy in pre-employment discussions and it was certainly a topic of many conversations when it came to timing, hours of work and workload capacity.
However, I found the upfront discussions refreshing and at no time were these topics raised in the context of 'road blockers'. Rather, they were a great opportunity for both sides to offer up understandings and test each others veracity to work flexibly (it has to be a two way street after all). It was often also a reality check for all parties – could I really do xyz and if so how could I be supported in achieving that.
It seems very clear to me that in the NewLaw world, flexibility is embraced and lived out by all, not just working parents or mothers. But I'm still grateful to be so warmly embraced by a new workplace who will have to do some covering for me as I dip in and out of work over the next few months. It takes team work to make the dream work right?
While I'm nervous and excited about heading into 2019 with all the change and new projects a'comin' (personal and professional), I encourage you pregnant women out there to take courage and strength from your pregnancy and not let it derail or slow down your career goals or prevent you from implementing change in your life.
In a bid to share my recent learnings through this process, here are some things for you to consider when thinking about making a move when pregnant or to gain better flexibility:
1. First obtain the support of your family and partner – if they are worried about a move into a new role then you need to explore that, as it's so much easier when you have family encouragement and help;
2. Find an employer that is going to support your new family and preferably one that already has a track record of flexible work arrangements;
3. Get clear on how you're going to work – what does flexibility look like for you and your new boss or manager? You should have multiple discussions about workload, expectations, hours of work and who will be in your support team to make the goal a reality;
4. Don't forget to talk about technology and ensure you'll have the set up at home to do the work when it needs to be done;
5. Consider what help you will need at home. I have a cleaner, a supportive and equal partner in the home and we have just gotten an au pair which has been a total game changer;
6. What's your back up plan? You need about three alternatives to whatever roster or timetable you've proposed and you need to be prepared to fail and fail fast so that you can rectify things and get back on track when things don't go according to plan;
7. Come up with clear communication guidelines with your team members and manager – how are they going to reach you when urgent things pop up? What's your commitment and time frame to calling people back? Who is going to talk with you if arrangements need to change? How regularly are you going to catch up to check in and make sure things are working out okay for clients, team members and you? The more open and transparent the communication, the smoother the process;
8. Ask about breastfeeding-friendly solutions or expressing facilities and consider co-working spaces with childcare onsite for those early months when a nanny may not be suitable;
9. Always think about how you can take people on the journey with you, including team members in on the fun parts of parenting (even if it's just the occasional cuddle with your newborn) and making sure they still feel supported when you're doing the juggle; and
10. Keep checking in with yourself to make sure that this move will truly make things better, from a financial, flexible and overall happiness perspective. Those mother instincts are strong and they should be listened to – consider, does this feel right and good and exciting? If so, make the move, be brave and embrace all that is to come. Just like you will in labour and motherhood!