Maritime moot title a consecutive win for University of Queensland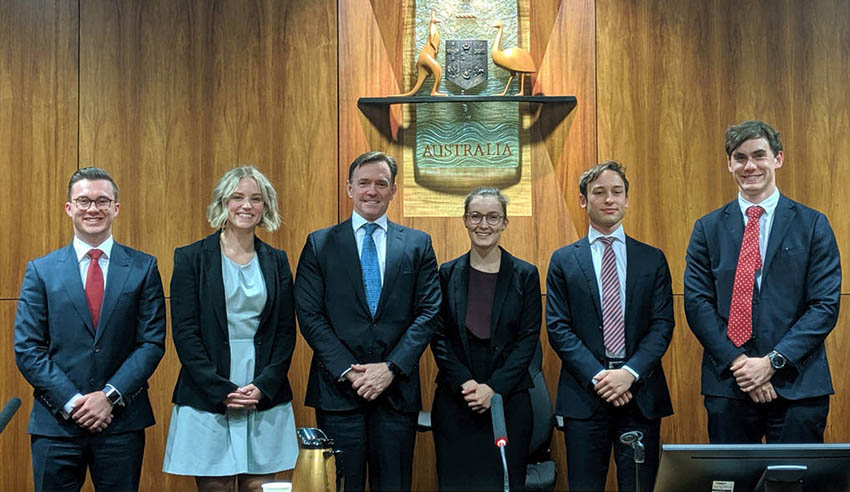 The University of Queensland law students have held onto a huge victory, coming out on top again in the grand final of the 20th International Maritime Law Arbitration Moot.
UQ's second consecutive world title win saw them topping 30 other teams from around the world, including fellow grant finalist The University of Sydney.
Professor Patrick Parkinson, head of school and academic dean, praised UQ's team for returning the championship trophy to the university. The law team was made up of UQ Law's Tessa Boardman, Jonathon Hohl, Matt Singer and Mia Williams.
"This is a truly international and highly competitive event, and our win marks another great mooting achievement for UQ," Mr Parkinson said.
"To win in consecutive years is a great indication of our strength in legal advocacy, training and our global excellence in international trade and maritime law research."
UQ won a number of awards during the competition, including highest-ranked team in the general rounds, best respondent memorandum, runner-up best overall written memorandum, best speaker in the finals and best speaker in the grand final.
"I would like to thank everyone who has contributed to our team's impressive success," Mr Parkinson said. "Especially our students and volunteer coaches, whose extensive efforts and preparation have paid off."
The competition is organised annually by the School of Law at Murdoch University in Perth. UQ hosted last year's competition, which attracted more than 200 law students from around the world.
This email address is being protected from spambots. You need JavaScript enabled to view it.