The GFC, 3 kids and a pandemic: How this student is on track to graduate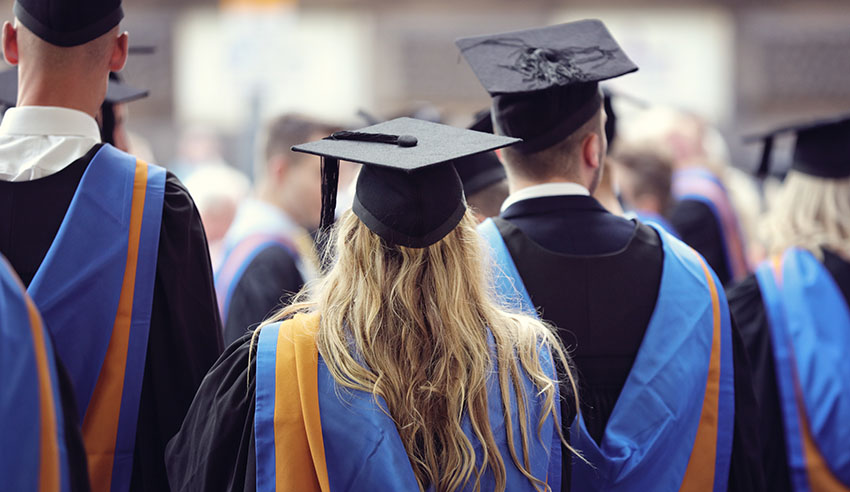 How one law student survived moving across the globe, the global financial crisis, three kids and now the global coronavirus pandemic to graduate with a juris doctorate.
Although she said there have been many doubts around ever achieving her dream of law, Sarah Page said she has been able to achieve an education she did not believe could be real, which opened a lot of doors for an exciting future in the legal profession.
Ms Page is American by birth and began an undergraduate degree in the US. There, she met an Australian working in Nashville, and they made their way to Sydney. Around then, the global financial Crisis (GFC) hit, and they relocated to Switzerland. The postgraduate qualifications in law she wanted had to take a back seat as the couple set up a new home.
"I'm a full-time student, working part-time with three young kids at home so my life is very busy [but] the channels of communication are always open, so whether [it's] phone calls or emails, videoconferencing, it's all just very easy," Ms Page told Griffith University.
"Having the availability of lectures online allows me to still have a life, but also stay on top of my study," she said, adding that Griffith University supported her and the staff gave her all of the avenues of support that she needed in order to succeed in her education.
Ms Page has a background in social justice – her mother was a social worker – and aims to make a career out of advocating for those enduring a family breakdown. She said she was inspired by her mother's advocating for women and children in the court system.
Upon graduating, Ms Page said she is looking to work with a judge for more experience, but said she has some great opportunities to focus on until the end of the year.
"The dream is to be a judge's associate for a year learning the court system," she said.
"I'll also be doing some legal work volunteering, which is something else Griffith advertised well. They have relationships with clinics that students can work for, so I've applied to do a clinic position next trimester."