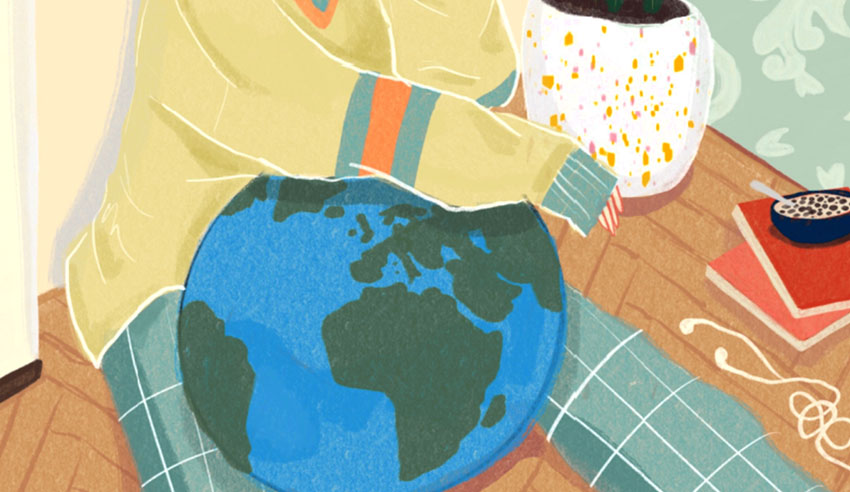 The Australian legal and regulatory landscape will be forever changed by COVID-19, especially for law graduates across the country, writes Gemma Dabkowski. 
The backdrop of a global pandemic means law students are not only reconsidering future pathways, but must also navigate new-found global trends. As we enter into a period of complex geostrategic realignment, the question of whether pre-COVID-19 career expectations will withstand the test of time is uncertain. What is clear is that our post-COVID-19 national security landscape will require a new generation of proactive legal and strategic analysts if Australia is not only to survive, but also to thrive.  
As we look to the future, effective national security will require greater interdisciplinary collaboration to pre-empt the risks posed by our challenging geopolitical environment. This will primarily involve responding to more non-traditional security threats such as cyber attacks and data theft. In an age of social distancing and working from home, Australian businesses and individuals are also now facing an increased risk of external interference. Just as the demand for national security lawyers was intensified in the post-9/11 era, COVID-19 marks another turning point in the evolution of Australia's national security and legal sectors.
The traditional structure of a law degree does not explicitly encourage students to aspire to careers in the national security community. National security law does not form part of the "Priestley 11" necessary to graduate with an Australian law degree. This means that students must actively seek out opportunities to study security law through elective study, provided such courses are offered in the first place, or via extracurricular opportunities. One way in which law students are able to pierce the national security veil and get a taste for national security decision-making, even in the midst of a pandemic, is through virtual summits and events. 
This is why the Australian National University and Department of Defence are working with a group of ANU law students to host the inaugural Australian Crisis Simulation Summit (ACSS) in September. This student-led initiative arose out of a necessity to supplement theoretical classroom learning with practical and hands-on training in national security frameworks. Throughout the summit, students will practice responding to both traditional and non-traditional security threats while representing the stakeholder interests of different Australian governmental departments. 
Pre-COVID-19, the idea of co-ordinating 70 student delegates, academics and leading experts would already have been a mammoth of a task. During a pandemic, this has become an exercise in crisis management itself. 
As an organisation, the ACSS knew it owed a duty of care towards its volunteers, delegates and mentors looking to participate in the summit to ensure that they could operate within a safe environment. As the entire globe battles with the unseen enemy of a contagious virus, the only option was to transition this innovative gathering online. 
Having embraced this new reality we all now live in, we soon discovered that virtual events offer many advantages which are not available in person. For example, a virtual experience is arguably more egalitarian and allows students to participate from anywhere in Australia without being discriminated against by travel costs. By the same token, a virtual platform enables access to academics and area experts from not only all over Australia but across the globe. This means students are exposed to a more holistic appreciation of transnational security law.
We have been overwhelmed by the response of Australia's leading national security and intelligence experts and academics, as well as government officials, commentators and journalists who have agreed to participate in this inaugural event. The support of both the ANU chancellor, the Honourable Julie Bishop, and vice-chancellor, Professor Brian Schmidt, has been critical. Ultimately, it is the students organising the summit who will have to identify Australia's most pressing national security issues and weave them into a narrative which has real-world application. 
We understand that co-ordinating Australia's future and current national security leaders opens our event to vulnerabilities potentially posed by external monitoring and interference. The very same data and communication technologies that will enable students to participate are also at risk of exploitation by hostile actors. Measures have been taken to safeguard against this risk to the greatest extent possible. 
Since 9/11, the Australian security and intelligence infrastructure have evolved in leaps and bounds. For law students aspiring to one day enter the national security sector, their future job may not yet exist. This uncertainty should not act as a deterrent. Rather, it exemplifies what an exciting and evolving field national intelligence is becoming. In the midst of a global pandemic, law students can still get a taste for national security decision-making.
Gemma Dabowkski is a law student with the Australian National University, assisting Alexandria Smith and Timothy Hobbs with the Australian Crisis Simulation Summit.