Law student body to address sexual harassment and bullying in 2021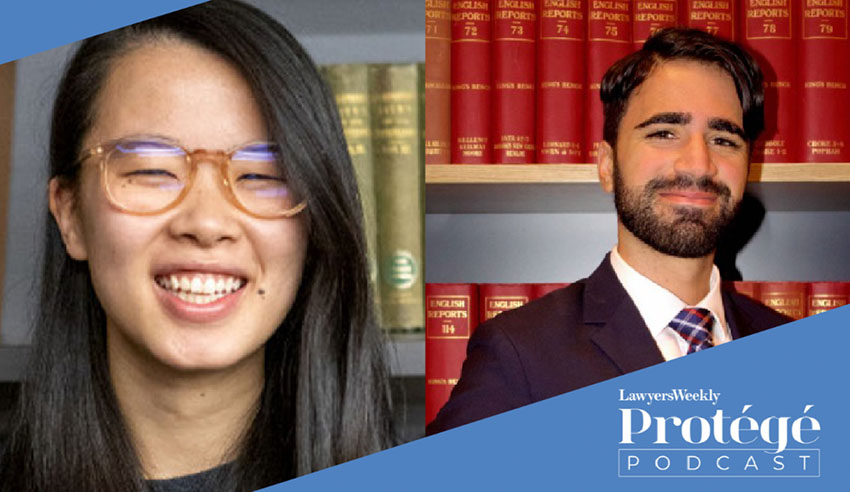 While the onus should never be on our youngest lawyers, the Australian Law Students' Association has made important steps in addressing and removing sexual harassment and bullying in the profession. Its president and immediate past president talked about their initiatives and plans for the future of the association with Protégé.
A major part of the profession's problem with inappropriate behaviour is its culture and, while many are working towards improving legal workplaces, starting that change from the beginning can make a real difference. It's part of the reason why the president and former president of the Australian Law Students Association (ALSA) are making plans.
Speaking on The Protégé Podcast's inaugural episode, president Nicholas Tsekouras and immediate past president Margaret Cai spoke about their plans for addressing the misconduct at the student level with seminars, training and advocacy strategies.
"I think it's probably one of the first things that we as students need to address to other students because a lot of us aren't aware of the complexities and how rife these issues are across the legal profession," Mr Tsekouras said, adding that raising awareness for these spaces may help future lawyers better identify and respond to misconduct.
Ms Cai said the association has wanted to give students a voice in this space who can then go on and promote advocacy and understanding in their own careers. She added that this discussion usually attracts critics who attack them for being "snowflakes" and unhelpfully tell them to either be quiet or to "harden up" to make it as lawyers.
"I think that really shows how out of touch a lot of people in the profession can be when 50 per cent of people are reporting that they have been bullied in the profession, [and] something like one-third are reporting they have been sexually harassed," Ms Cai said of the negative, unnecessary criticisms.
"That's a cultural norm. To sit down and shut up is not acceptable. It's what has led us to this position in the first place."
The ALSA has developed a working group with an advocacy focus to address how the issues in the profession affect young, studying lawyers. It will also be running a week-long advocacy program featuring seminars and sessions to address these behaviours, with the intention of hopefully making it an annual event. Going forward, ALSA affiliates will also have to demonstrate an understanding of these misconducts.
"It's really important at this time that momentum continues," Ms Cai said. "Bullying and sexual harassment don't stand and stop with Dyson Heydon. We know the statistics, we know the data, we know the anecdotal evidence. It's happening around us and so I think that continuation and momentum are imperative at all levels of the profession."
As for other accomplishments at the ALSA, Ms Cai said she is particularly proud of the memorandum of understanding with the Asian Law Students Association to give young lawyers the opportunity to compete in competitions and intern in parts of Asia.
Another thing is the advocacy around mental health, including the rollout of the mental health training in partnership with Legalsuper and the College of Law.
"It's something that we're really proud of because we know the statistics around mental health and it's something that we just want to equip law students with the ability to then identify what a mentally healthy workplace looks like, what that might not look like, and the steps they can take to move forward," Ms Cai said.
As for plans in 2021, new president Mr Tsekouras said he hopes to continue advocacy, particularly through misconduct and mental health. The ALSA hopes to develop a new policy around that, which will "hopefully be read by many, many law students".
The ALSA also hopes to continue to create and continue existing events for students, particularly with COVID preventing many from going forward. While Mr Tsekouras said it would be a challenge, he said it will be "exciting to bring them into this day and age".
In the first episode of The Protégé Podcast, we also talk through the Higher Education Bill, advice for new lawyers and more into mental health initiatives and future plans for the association. Listen to that and much more here.
***
If you have any questions about the podcast, any topics that you might want us to look into or want to join me on an episode, please reach out – we would love to hear from you! You can reach us at the following:
Emails: This email address is being protected from spambots. You need JavaScript enabled to view it. or This email address is being protected from spambots. You need JavaScript enabled to view it.
Socials: Follow us on LinkedIn, Facebook and Twitter or reach out to me directly here.