How one young lawyer found the confidence to start again after a cancer diagnosis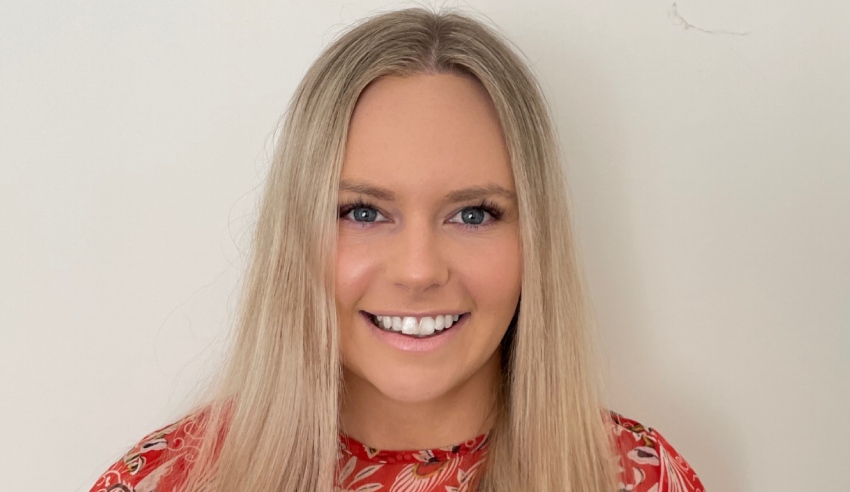 Right after receiving her acceptance letter to study law, a bright, young lawyer was diagnosed with cancer and told that she may never speak clearly again. Despite the setbacks, she found a strong group of friends and some inspirational mentors to help her find her confidence and her place in the legal profession.  
Just after receiving her acceptance to study bachelor of laws at the University of Melbourne, new lawyer Courtney Remington (pictured below) discovered that a painful lump on her tongue was cancer, despite many doctors dismissing it as just another symptom of stress. At the very beginning of her soon-to-be exciting career, Ms Remington said this diagnosis was a "massive shock" that was a "big step sideways" on her journey. 
"I had to defer my studies for 12 months while I underwent a 14-hour surgery, and it took me 12 months to learn how to speak again and eat – it was very full on! So then when I finally started orientation day at uni, I was still having a lot of trouble speaking, I was seeing a speech therapist and had a lot of social anxiety," she said.
In the beginning, Ms Remington said she did not volunteer to do anything or join any clubs like many of her peers. She told The Protégé Podcast that if she made it into the class, "that was an achievement". Over time, Ms Remington made a strong group of friends, connected with some mentors and began to regain her confidence. 
Incredibly and despite being told by doctors after her surgery that she may never speak clearly again, Ms Remington aced her last subject ever: mock court and trials. 
"It was my best mark, and it was something that if you had asked me at uni would I have ever done that, I'd say definitely no. I guess that just made me think, 'oh, if I do want to go to the bar one day, I can do it. That's an option'. It was just a bit of a tough journey through university, but I was so lucky to have had a lot of inspirational women in my life and supportive friends and family," Ms Remington said. 
On how she found the confidence to bounce back after her diagnosis, Ms Remington said she started by meeting new friends and kept in the mindset that she did not have to push herself too far out of her comfort zone. Speaking to listeners of the podcast, she recommended finding people in the course to click with, because "they're all going through the same thing and feeling the same uncertainty". 
These friendships can then grow into networks that can connect new lawyers with job opportunities or mentors to help them get there. Ms Remington said that people do "really want to help you and give you advice", so from there it was really about making the important connections, putting herself out there and using resources.
"You can drag them along to events with you and help give that confidence. You pick up similar subjects and study together. I know that really helped me. We would have study nights with wine and dinner, and it was great," Ms Remington said. "[Then there are] mentors, mentors, mentors. They really helped me so much to get where I am and give me the confidence to get there. Everyone will have an opinion about everything but until you go to speak to someone who's doing it, you can't know." 
Shortly after finishing her studies, Ms Remington took some time off to go travelling and to unwind after some stressful years. However, this meant coming back into a job market that had already accepted many of her peers and the students graduating a year behind her. For some time, Ms Remington "got so many rejection letters" and, in some cases, did not even hear back. She said it was really a disheartening experience, "but then I just learnt from it and asked for feedback and improved". 
"In the end, I felt like I had multiple interviews lined up and then that week I was offered my current job. It just made me realise that it was meant to be. I wasn't meant to get any of those other jobs, but I do hope that for the listeners, that if they find it hard when they're applying, to not get disheartened. I know even a lot of my friends felt that way. It's really common. But it will work out and you will flourish," she said.
Are you looking for a career change but don't know where to start? Attend the Lawyers Weekly Career Expo and Emerging Leaders Summit, a free-to-attend, live-stream event designed for graduate lawyers or emerging law professionals early in their career to be connected with key recruiters, Australia's top firms, companies and leading educators. Register HERE to attend on 8-10 June, for FREE!