The real-world benefits of taking a pro bono pathway into a legal career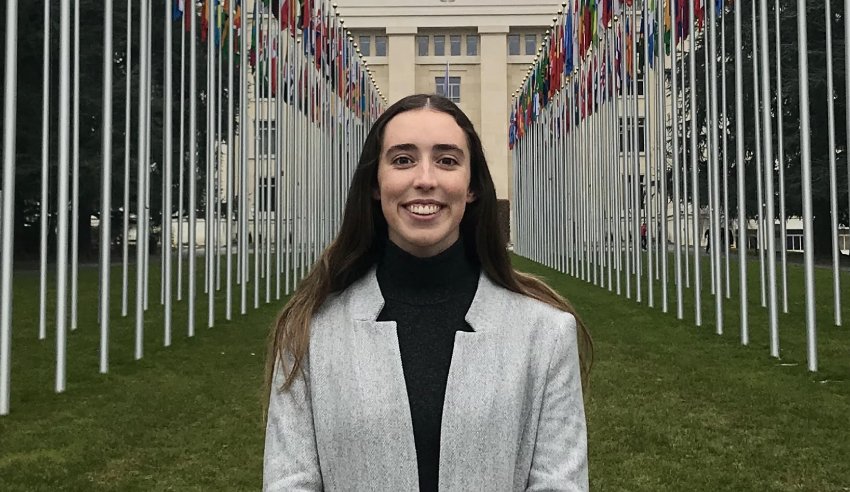 Outside of the benefits of bolstering a résumé with some extra, real-world experiences, volunteering and pro bono work give law students the opportunity to assist with critical change for communities across the globe while reigniting a passion for using a degree for social good. One Canberra student found this when she leveraged her legal training to pursue a fairer system for Indigenous people in Western Australia.
For many students, the decision to pursue a law degree starts with a passion for having a hand in making real, crucial change to the most vulnerable members of society either in their work for a major firm or in community organisations. For the Australian National University's final-year student Madeleine McGregor (pictured below), it meant one day being part of the huge transformations needed for individuals and social-wide issues across the world. 
Volunteering with the Aboriginal Legal Service in Kununurra – located in the Kimberley region of Western Australia – was Ms McGregor's first real experience witnessing legal work in action. She was providing legal assistance as a paralegal with the criminal law division, where she was often given the opportunity to speak to clients directly, consult with lawyers, draft submissions for court "and see how the law affects people there". 
"The reason that I was particularly interested in the law was the social justice elements and the capacity to give back, both to particular individuals but also to shape justice in Australia and internationally. That's a key element of law," Ms McGregor told Protégé. "If you're a student studying law and one of the reasons you were interested was social justice and to influence people's lives, that's what [pro bono] organisations stand for."
Ms McGregor, whose clients were all Aboriginal, said it was "really powerful" to witness the ways that the law could assist in inequality or issues that Indigenous people within the Kimberley were facing. She added that it was equally as powerful to "see the ways that law reform still has a long way to go to address the systemic disadvantages which face Aboriginal people in rural communities", especially when it comes to police. 
While she was in Kimberley, Ms McGregor was given the opportunity to work on a research project based on the legal work she was part of. She said one thing that really stood out was the way police interviewed Aboriginal children: "Police might knock very early in the morning and take, for example, a 15-year-old kid into a station to ask about a matter. What is also very sadly common is that a lot of people in the Kimberley have foetal alcohol spectrum disorder which affects the ability for individuals to understand what they are being asked and to understand rights they have in an interview."
One of the projects that Ms McGregor worked on was to come up with a novel defence, used for people with foetal alcohol spectrum disorder and specifically relating to police suspect interviews, on whether it could be admitted as evidence given the inability that those affected have with understanding their rights and the questions asked of them. 
"Excitingly after I left, this defence was actually used in the Magistrates' Court and was upheld, which made it an incredibly satisfying experience to provide assistance and to work for something that was used by lawyers in the Kimberley," Ms McGregor said. "I couldn't recommend this experience enough, it was really, really rewarding." 
One of the ways that Ms McGregor's experiences may differ from that of a law student pursuing real-world training in law firms or courtrooms is that she had a lot of autonomy in how she could contribute and what roles she took on. She attributed this freedom – and the increased level of trust she felt she had from the organisations – to the extent that community legal centres are under-resourced and underfunded for the great work that they do. While this space of law waits for the well-deserved support that it critically needs to continue, law students have the room to come in and learn on the ground. 
"What was fantastic about going into the Aboriginal Legal Service as my first real, legal experience was that from day one, I was being given real tasks that were affecting real clients. For example, one opportunity I was given, on my first day, was to draft the bail application that went to court that afternoon. It was something I've never done before," she said.
"I've never attempted to write submissions to court for anything. It was a huge learning curve," Ms McGregor said, adding that it involved, "looking through previous examples and trying to do something that emulated those and being given a lot of feedback from the solicitors out there as to what I should be looking for, how to craft an argument for the submissions and then walking into court that afternoon and seeing it argued." 
For her fellow law students, Ms McGregor recommended getting involved in something similar to understand the work that community centres do and see how they can assist or be part of the positive impacts that places like the Aboriginal Legal Service, or Legal Aid or the Environmental Defenders Office give to the community "every single day". 
"I think that, as a result, you will find the law that you're learning in law school so much more relevant and more rewarding, and you will also improve quicker because you are engaged, and you understand the reasons why these particular laws are important," she said.
"[These opportunities] can be used to help refugees get off Manus Island, for example, or [show you] the way that other legislation is now being adapted – such as corporation law that holds them to account for environmental impacts. Understanding these kinds of laws in the context of social justice is a fantastic way of completing your law degree and understanding the real power in the education you're receiving," she said, adding a warning for students to not get too detached from the good that law can do." 
On how to find these opportunities, Ms McGregor said that a lot of law schools should have a list of organisations that students can volunteer with on top of course credit. If that fails, Ms McGregor also recommends checking out the office branches with Legal Aid, the Aboriginal Legal Service and the Environmental Defenders Office: "They're the three key ones that do a lot of work across Australia. Wherever you are, these are the three organisations that will be somewhere near you [and want the help]." 
"In terms of reaching out I'd really recommend not waiting for there to be an opportunity advertised but sending an email, walking into the office or calling and asking what the organisations are looking for – whether they are looking for any assistance from a law student and what you could provide and really asking what they are needing. If you go in with that mindset, I'd say it's almost certain that one of these organisations will have something for you to do," Ms McGregor said. 
Are you looking for a career change but don't know where to start? Attend the Lawyers Weekly Career Expo and Emerging Leaders Summit, a free-to-attend, live-stream event designed for graduate lawyers or emerging law professionals early in their career to be connected with key recruiters, Australia's top firms, companies and leading educators. Register HERE to attend on 8-10 June, for FREE!