600 don joggers for justice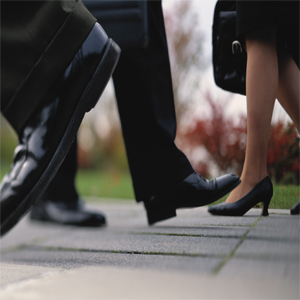 Pro bono work by lawyers and barristers in a major offshore asylum seeker project has been celebrated with a six kilometre walk around Sydney this morning._x000D_
Pro bono work by lawyers and barristers in a major offshore asylum seeker project has been celebrated with a six kilometre walk around Sydney this morning.
The Public Interest Law Clearing House (PILCH) NSW hosted the fifth annual Walk for Justice, which started at the Archibald Fountain in Hyde Park at 7:30am and concluded with breakfast in the Domain.
PILCH solicitor Sarah Dale said this year the walk, which has become a feature of Law Week across Australia, aimed to celebrate and thank those who provide free legal advice, rather than focus on dignitaries and formal speakers.
"Last year we had formal speakers and the Attorney General Greg Smith SC came and spoke; this year we've turned it back and made it about the people who are actually doing the work with us," said Dale.
"This walk is our public statement for the needs of pro bono services. This year we had a big project, the NSW Offshore Asylum Seeker Project, on which we engaged a lot of barristers and solicitors, so this is our chance to celebrate with them all the achievements we've made in pro bono this year."
The asylum seeker project commenced in August 2011 and reached its 100th client contact in December of that year. It has assisted those in immigration detention throughout Australia who have been refused refugee status and have the right to judicial review. 
Those who participated in the walk this morning included: President of the NSW Law Society, Justin Dowd; the Minister for Finance & Services, Greg Pearce; Commissioner of the Australian Law Reform Commission (ALRC), Professor Jill McKeough; ALRC president, Professor Rosalind Croucher; Information Commissioner, Deidre O'Donnell; Senator of NSW, Matt Thistlethwaite, and City of Sydney Councillor Irene Doutney who was representing Sydney Mayor, Clover Moore.
The walk has its origins in the London Legal Support Walk, which has been held every year since 2005.
This year walks take place in Sydney, Melbourne, Brisbane and Adelaide, as well as in Townsville and Newcastle.
All money raised by the NSW walk goes to support PILCH's work with vulnerable and marginalised people in NSW.
The number of walkers continues to grow each year, with over 1700 walkers raising approximately $34,000 across Australia in 2011.