Brisbane barrister named Law Mentor of the Year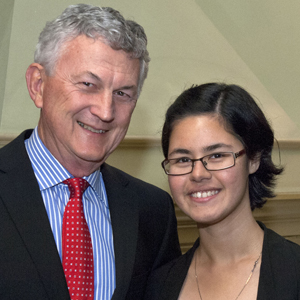 Barrister Dan Ryan has been named the University of Queensland (UQ) Law Mentor of the Year at an awards ceremony at Customs House, Brisbane.
Chief Justice of Queensland, The Honourable Paul de Jersey AC, presented the award on May 16, which recognised Ryan's contribution to the TC Beirne School of Law mentoring program.
The program helps students transition from full-time study to legal practice.
A commercial and criminal barrister at Fullagar Chambers, Ryan told Lawyers Weekly that mentoring gives students a "deep well of experience they can draw on at any time".
His mentee, fourth-year law student Kah Hey Loh (pictured with Ryan), agreed. She said Ryan's career advice and insights into the nuances of Australian legal practice were "enormously" valuable when she made her professional debut.
Even more valuable to mentees is the opportunity to forge relationships with practising legal professionals, said Ryan.
"The real benefit of mentoring is getting to know each other in a one-on-one environment – it can have an impact in all facets of a student's life."
Mutual benefit
Ryan's view is supported by a recent survey that found the majority of Australian executives with access to a mentor said the experience was often life changing. Released in May, the Managing Power, People and My Career – Australian Executives share their mentoring stories report identified key impacts of mentoring, including gaining confidence, courage, skills and networks to manage a range of professional and personal challenges.
Mentoring is a beneficial experience for mentors as well, according to Ryan. "[Mentees] enrich us in return … it gives us an opportunity to hand something back to the next generation of lawyers," he said.
Since the launch of the UQ Law Mentor Program in 2007, around 400 students and more than 100 mentors including solicitors, barristers, judges, associates, registrars and academics have participated.
The program has also been nominated in the 2012 Australian Awards for University Teaching – Awards for Programs that Enhance Learning.