Make the Switch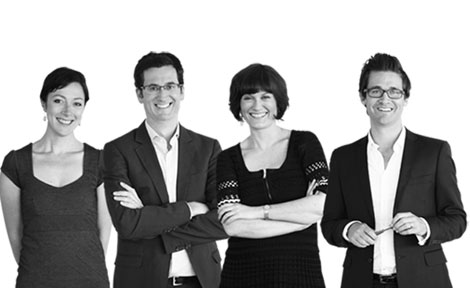 Four ex-NAB in-house lawyers have set up a boutique firm with the ambition of being the only true value-billing firm.
Based in Melbourne, Switch Legal – the 'nerdy experts in technology law' – discuss fee structures with clients upfront and offer choice in the billing arrangement, said director Chris Broadbent, who founded Switch with NAB colleagues Natalie Williams, Andrew Meldrum and Melanie Noble (pictured left to right).
Broadbent told Lawyers Weekly there was an opportunity in the market to offer value billing from highly-experienced legal practitioners – Switch's point of difference.
"We're all senior lawyers who have worked on both sides of the fence – top tiers and big corporates," he said. "I suppose we have a unique skill set that you don't always get from a private practice lawyer."
Experiencing his own frustrations with legal services as an in-house lawyer, Broadbent commented that the big firms are failing to offer a strong value proposition.
"[Working at NAB] gave us insight into how clients receive legal services and we felt we could do it better. Hopefully we'll shake up the profession a little."
It's still early days for Switch, which is currently building its client database. While Broadbent could not name specific clients, he did reveal the firm is targeting the big banks.
"We're all well-connected with the legal market and currently reigniting old contacts," he said.
"We're going after clients that would have a particular interest in what we offer, which might be from an expertise point of view in the case of the banks, or clients looking for an alternative to what the big firms offer based on value."
The Switch website uses humour and an informal tone which stands in stark contrast to other law firms. Broadbent said Switch is trying to move away from the "sterile" environment that characterises some legal practices.
"We're trying to be different," he said. "I don't see why legal services shouldn't be fun."
Despite losing a chunk of its in-house legal team, NAB was supportive of Switch, Broadbent added.