Lawyers dig deep to build homes in Cambodia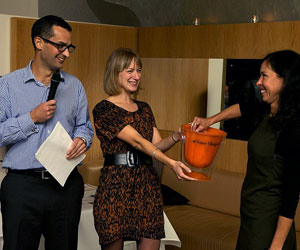 Insurance law specialists Wotton + Kearney (W+K) raised more than $9000 at a fundraising dinner in Sydney last night (31 May) to support the Tabitha Foundation Australia.
The firm is sending six people, including five staff members, to Cambodia to build 12 homes in a community just outside the capital, Phnom Penh. The initiative is part of W+K's corporate social responsibility (CSR) program called 'Community Footprint'.
More than 60 lawyers, judges, clients and friends attended the event held at Manta restaurant in Woolloomooloo.
The evening's MC, W+K chief operating officer Andrew Price (pictured left with W+K senior associate Heidi Nash-Smith and artist Jo Bertini), is one of the volunteers. He told Lawyers Weekly that money raised at the dinner has brought the firm very close to its target of $20,000, as they already raised $9000 when staff members competed in The Sydney Morning Herald Half Marathon earlier this month.
In an impassioned speech, W+K HR advisor Karen Pritchard explained that the cause is close to her heart.
"Having been there and done it before I can tell you that helping these people is just the most magnificent thing," she said. "It is extraordinary work and the most thrilling thing I've done in my entire life."
Pritchard and Price will be going to Cambodia along with W+K partner Nick Lux, senior associate Heidi Nash-Smith, solicitors Angela Winkler and Aisha Lala and Jo Bertini, an artist whose painting was auctioned off on the night.
The original work by Bertini, which was donated by Tim Olsen Gallery, raised $1550. A home-cooked dinner for 10 by the Head Chef of Sydney restaurant La Grillade was another popular auction item that raised $1700.
Price said getting the initiative off the ground required considerable work, including approaching various contacts to donate auction items. But the outcome was worth the effort, he added.
"We raised more money than I thought and the feedback from those who attended was that they really enjoyed it," said Price.
Fundraising for charities is an integral part of the firm's CSR strategy, he continued. "Last year, we formalised a CSR and pro bono program and this initiative is part of that."
W+K plans to hold another fundraising event for Tabitha Foundation Australia in central Australia in 2013.