Reformer judge makes Honours list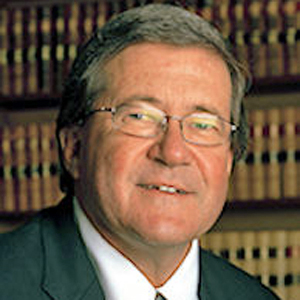 The Chief Justice of the Supreme Court of Western Australia was one of eight Australians to receive the Order of Australia Companion (AC) in this year's Queen's Birthday Honours list.
The Chief Justice of the Supreme Court of Western Australia was one of eight Australians to receive the Order of Australia Companion (AC) in this year's Queen's Birthday Honours list.
Wayne Stewart Martin (pictured) was recognised for his eminent service to the judiciary and to legal reform and education.
Appointed Chief Justice of WA in May 2006, Martin was the first judge in Australia to ban lawyers from wearing wigs and to allow cameras into the courtroom to ensure court cases are better understood by the media and the community.
After completing his articles with Lavan & Walsh in Perth and receiving a Master of Laws from the University of London in 1975, Martin became a senior litigation partner with Keall Brinsden in Perth. He joined the Independent Bar in 1988 and was appointed a Queen's Counsel (QC) five years later.
He has held the post of president of the WA Bar Association, chairman of Law Reform Commission of WA, president of the Law Society and director of the Law Council of Australia, and is well recognised for breaking the traditional conservative court mould.
The president of the Australian Lawyers Alliance, Tasmanian barrister Greg Barns, has said Martin is a mentor and probably the most progressive judge in the country.
As well as allowing Today Tonight and ABC to film court proceedings in WA, Martin regularly weighs in on contentious issues. He has warned that timesheet forgery is rife in the profession; suggested judges sit in with juries to help guide them through their deliberations and argued against detention for young indigenous offenders and mentally ill offenders.
He joined Gareth John Evans AO QC who also received the AC award for his service to international relations on a range of global policy matters, including conflict prevention and resolution, arms control and disarmament.
Other AC recipients included Peter Douglas Beattie, Professor Ian Hector Frazer, Joan Elizabeth Kirner AM and Professor Peter Singer. The award is Australia's greatest civic honour (no more than 25 are appointed in any calendar year) and is awarded for eminent achievement and merit of the highest degree in service to Australia or humanity at large.
Four officer awards (AO) in the general division were also awarded to lawyers over the weekend.
Christopher Steytler QC was recognised for his service to the judiciary and to the advancement and protection of human rights, legal education and to professional ethics and standards.
"Since retiring from the  Supreme Court in 2009, [Steytler] has worked diligently as Parliamentary Inspector of the Corruption and Crime Commission of WA and continues to advocate for social and legal justice in all its forms," said Dr Christopher Kendall, WA Law Society president.
Outside WA, Professor Douglas Samuel Jones AM RFD received an AO for his service to the law as a leader in arbitration and alternative dispute resolution, policy reform, and to national and international professional organisations.
Phillip Toyne received the AO for his service to environmental law through executive and advisory roles, particularly the introduction of a national Landcare program, and for the work he has done for the protection and restoration of Australian landscapes and the indigenous community. Dr Anne Therese Gallagher also received the AO for her service to the law and human rights, as a practitioner, teacher and scholar in the areas of human trafficking responses and criminal justice.
Other legal professionals awarded as members (AM) in the general division included Baker & McKenzie partner and global environmental markets group head Martijn Wilder for his work in the climate change and environment space and Robin Hamilton Chambers for distinguished service to Australia-China relations, particularly as an adviser on international corporation law.
Anthony Norman Abbott also received an AM for his policy development and reform roles with professional organisations and work in the disability sector through the Multiple Sclerosis Society of South Australia. Justice John Alfred Dowsett also received an AM for his services, particularly to legal education in the area of litigation and dispute resolution.