Poll: Firms not encouraging social media use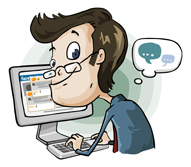 A marketing expert has warned that law firms may be missing out by dismissing the potential value of some social media platforms.
A recent poll on the Lawyers Weekly website revealed that 27 per cent of respondents were forbidden from accessing social media in work. 19 per cent were not encouraged to access it and 13 per cent were only allowed to access certain social media sites.
Just over 40 per cent of the 62 respondents were allowed and encouraged to use social media across all platforms.
Patty Keegan, director of marketing coaching firm Digital Chameleon, said firms that limit their staff's use of social media could miss out if they dismiss the potential value of Facebook.
"Plenty of firms can and do use Facebook to share their more 'human' side, like efforts to support charities, community work and staff celebrations. Is there a stealth business value in promoting this human side? Would it help a potential recruit or client gain more insight into a firm? If yes, it's worth considering Facebook," said Keegan.
With that said, tone in social media is critical. As Minter Ellison discovered through focus groups with graduates "of the Facebook generation", many young lawyers find it "a bit creepy" to 'like' a law firm on Facebook.
"They said that it is a private space and they didn't like it crossing over into the work space," explained Paul Kallenbach, intellectual property and technology partner at Minters.
It's easy to assume social networking is the domain of the young, but people over the age of 55 are the fastest-growing group joining Facebook, according to research from Nielsen.
While Facebook is chiefly recognised by some law firms as a tool for reaching fresh graduates in the recruitment process, it can also help to enhance a firm's internal and external social interactions.
"Facebook can boost a firm's image. As long as it isn't too self-congratulatory, it helps tell the firm's story. One of our legal clients does stellar work in combatting overseas poverty and they proudly share this on their Facebook page. Nothing wrong and everything right with that, especially if you want to communicate how important these values are to the firm," said Keegan.
Consider your content
However, Facebook isn't necessarily always the best way to engage with audiences.
At Digital Chameleon the major social media platforms are characterised this way: Twitter is the digital equivalent of the water cooler — quick takes on the latest news; Facebook is the pub — informal and great for sharing personal stories; LinkedIn is the professional club, where you're talking careers and business.
"The platforms are really secondary - the real issue is developing a content strategy and then deciding which platforms are best to deliver that content," said Keegan, adding that "digital CVs" on LinkedIn are an incredibly valuable tool for law firms and lawyers looking to network and advance professionally.
Keegan said Digital Chameleon started "really engaging" with LinkedIn only this year and has since gained hundreds of new contacts as well as new business.
"And don't forget the advertising potential—with LinkedIn you can target recruitment advertising by industry sector, geography, even by title. From a talent search perspective for legal, it is like a laser," she said.
Firms which fail to choose to be social media friendly will most likely put themselves at a disadvantage because, as Keegan highlighted, younger lawyers who have grown up relying on social media to develop personal and professional networks will not abandon them.
"Lawyers are people too … for anyone who is denied access to social media at work, the simple work-around is that they will use their smartphone anyway," said Keegan.
She admits, however, that laws firms that have embraced social media have done a generally good job at it.
"We've seen a migration rapidly evolve, from scepticism to avoidance and eventually some level of acceptance. Lawyers are natural communicators, so I'd expect the legal sector to outperform other sectors sooner than later."