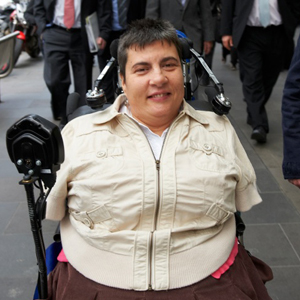 Lawyers representing thalidomide victim Lynette Rowe yesterday (18 July) secured a multi-million dollar settlement from the drug's distributor, with more compensation claims expected to follow.
Slater & Gordon and Gordon Legal jointly represented Rowe (pictured), a 50-year-old Victorian woman born with no arms or legs after her mother took anti-nausea medication containing thalidomide.
Slater's Michael Magazanik conducted Rowe's claim with Peter Gordon of Gordon Legal. Magazanik told Lawyers Weekly that the compensation payment will provide Rowe with "a high level of care for the rest of her life".
Rowe had launched a class action against British company Diageo, which in 1997 acquired Distillers, the Australian and New Zealand distributor of the thalidomide drug. Distillers turned raw thalidomide into tablets and shipped the drug to Australia in the 1950s and 1960s.
Rowe also sued Grunenthal, the German pharmaceutical company that invented thalidomide.
Magazanik said he is "disappointed" Grunenthal did not contribute to Rowe's settlement.
"Many of our clients would love to see Grunenthal held to account for their global actions on thalidomide ... Grunenthal never tested the drug on pregnant animals or followed up its effect in pregnant women."
While the settlement has no precedential value in the courts, Magazanik said he is pleased Diageo has agreed to consider claims from other thalidomide survivors in Australia and New Zealand who have not yet been compensated.
"Diageo will run through a lot of cases over the next 18 months, which we will try to resolve outside the courts."
Magazanik said gathering evidence will be the greatest challenge in pursuing new claims.
"Finding witnesses from 50 years ago, and taking their statements, is difficult ... anyone who held a position of responsibility back then – like doctors, nurses and salesmen – are no longer spring chickens."
In 2010, Gordon and around six lawyers from his former firm Slater & Gordon negotiated a $60 million settlement for 45 thalidomide victims in Australia and New Zealand. The ex-gratia package went to compensated survivors who had settled their common law claims in the 1970s.
Thalidomide was introduced as a sedative in Australia in the 1950s. Its use was subsequently linked to birth defects including phocomelia, in which babies are born with limbs that look like flippers.
The drug was withdrawn from the market in November 1961.