A true trailblazer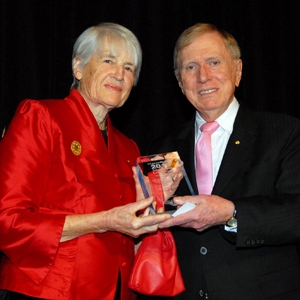 Picking just one career highlight for Elizabeth Evatt, the winner of this year's Bentley, Michael Kirby Lifetime Achievement Award, would be an impossible task.
> Picking just one career highlight for Elizabeth Evatt would be an impossible task.
As the 2012 Bentley, Michael Kirby Lifetime Achievement Award winner at the Lawyers Weekly Australian Law Awards, proudly sponsored by List A Barristers, she has accomplished in one lifetime what would be a stellar career for six lawyers.
In presenting the award to Evatt, Michael Kirby said the Evatt name was "legend" in Australia and her contribution to the legal profession and society as a whole has been immense.
"She has been a leader ... and she's shown that very important thing about human rights; you've got to have the empathy and the love but you've also got to have the intelligence, the dicipline, the application and good lawyering skills," said Kirby.
Evatt's list of accomplishments commenced at the very start of her career in 1951, when she became the youngest-ever law student at Sydney University. She was also the first female to win the University Medal for Law.
After being admitted to the New South Wales Bar in 1955, Evatt won a scholarship to study at Harvard University. She attained a Masters in 1956 and, soon after, began working as a barrister in London.
In 1973, Elizabeth returned to Australia, taking up the role of deputy president of the Conciliation and Arbitration Commission. 
"I pleaded before her as a young barrister; she was hard as nails," said Kirby, "but she was a wonderful, empathic judge; fair, just, disciplined, serious, which is what we expect our judges to be."
In 1974, she was appointed to chair the Royal Commission of Human Relationships.
"This was a really game-changing inquiry in our country; it was the first time I ever heard a national body urging change in the laws on homosexuals and ... Elizaebth led the way on that, she spoke when no one else was speaking," said Kirby.
In 1976, she was appointed as the founding chief judge of the Family Court of Australia, a position she held for 12 years.
In 1988 she became the president of the Australian Law Reform Commission and, in 1989, she was appointed as the chair of the United Nations Committee on the Elimination of Discrimination Against Women. In 1992, Elizabeth was the first Australian elected to the United Nations Human Rights Committee.
More international postings followed, with Elizabeth being a judge of the World Bank Administrative Tribunal from 1998 to 2006. 
In 2003, she was appointed as a commissioner of the International Commission of Jurists, a position she still holds today.
Upon recieving the awards Evatt said it still remained a matter of regret to her that not all of the human rights principles that Australia has signed up to internationally can be enforced judicially in our courts.
"In a country which has heritage of habeas corpus, that we should stand by to see adults and children held in detention without recourse to the judiciary is just a disgrace and if I could talk about bail laws in some states I'd get even more excited."
In 2011, Elizabeth was included on a special edition postage stamp alongside other eminent women such as Eva Cox AO, Germaine Greer and Anne Summers AO.