A legal crusader - The LitSupport Advocate Award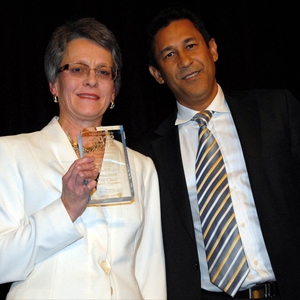 Personal tragedy inspired Marie Jepson to fight for the wellbeing of lawyers.
iv> In 2006, Marie (pictured left) and George Jepson founded the Tristan Jepson Memorial Foundation (TJMF) to decrease distress, disability and the causes of depression and anxiety in the legal community through increased awareness, advocacy and preventative action. 
The foundation was named in honour of Marie and George's son, Tristan. 
Tristan was a former University of NSW law student and a young lawyer who took his own life in 2004 after suffering from clinical depression.
Marie and the foundation have been at the forefront of trying to find out why such a high percentage of lawyers suffer from depression as compared to other professions and she is a worthy winner of the LitSupport Advocate Award at this year's Lawyers Weekly Australian Law Awards, proudly sponsored by List A Barristers.
In her speech, Marie said that when she began the journey with TJMF six years ago she was told that depression and mental illness did not exist within the legal profession and that universities didn't have time to be concerned with the mental health of their students.
The foundation then commissioned a research project with Professor Ian Hickie and the Brain and Mind Institute at the University of Sydney in 2007.
Almost 2500 lawyers and law students were surveyed and the tabling of the final report in September 2008 showed that more than 25 per cent of barristers, one third of lawyers and almost half of all law students have a high or very high risk of getting a diagnosable mental illness.
"Unfortunately the sentiment that 'if the kitchen is too hot you need to get out' is still alive and well in the profession and lawyers feel they need to go it alone," said Jepson at the awards.
This research has been the guiding light for law firms and bodies seeking to address this issue, and the expertise of Marie and the foundation has been called upon on numerous occasions by a range of law firms. 
In the last 12 months, Marie and the other directors of the foundation have given many presentations on mental illness in the legal profession and the need for preventative action.
Henry Davis York, the Australian National University, the National Managing Partners Conference and the Northern Territory and Western Australian law societies have all benefitted from the foundation's expertise.
"She inspired me (when I was managing partner at Freehills), and I know many others, to think deeply about the causes of this awful problem, to encourage those of us involved in management to talk about it, and to seek out ways to make it a topic which is no longer marred by a stigma, but which is something seen out in the open, that can be dealt with, with support and an appropriate culture," said Peter Butler, a partner at Freehills and a director at the foundation. 
Marie has been a true champion and voice for all members of the legal profession and is a fitting winner of the inaugural advocate award.
LitSupport's managing director Brad Gabriel (pictured right) presented the Advocate Award to Marie Jepson.