Priestley 11 should include ADR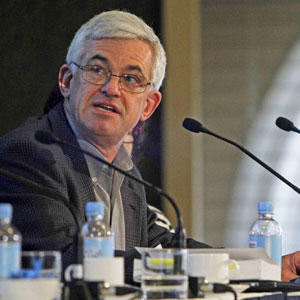 Australian universities are being stifled by the Priestley 11 as they attempt to meet growing demand for ADR courses, an ADR body has revealed.
Preliminary findings of a National Alternative Dispute Resolution Advisory Council (NADRAC) survey show 19 out of 27 law schools in Australia plan to increase ADR skills-based training in the next five years. The report also revealed that eight universities had a mandatory standalone ADR course and a further 16 had ADR integrated into mandatory subjects in either their undergraduate or Juris Doctor degree.
NADRAC chair Jeremy Gormly (pictured) told Lawyers Weekly that, while the results are encouraging, the Priestley 11 (law subjects required to achieve candidate status for admission into practice) is "acting as a straitjacket" on legal education.
"The Priestley 11 has made it quite difficult for universities to find a place for ADR that would make it compulsory," he said, adding that it is possible for some law students to complete a law degree without any exposure to ADR.
"There needs to be a reconsideration of core subjects in law ... [as] there are still considerable gaps."
Student demand for ADR is, consequently, outstripping supply, Gormly added.
This trend indicates growing recognition of the value of ADR, he continued, which "is starting to penetrate at a cultural level". He claimed graduates are more attuned to ADR's benefits in terms of improved productivity, cost savings and the preservation of working relationships.
"[Students] will contribute to cultural change in dispute management and [when they become] new lawyers they will probably aim at resolution through agreement rather than resolution through conflict," he said.
The NADRAC report was conducted on behalf of the Federal Government and is expected to be provided to the Attorney-General's office in the next few weeks.
Faculties other than law, including engineering and social work, were also captured in the survey and, interestingly, indicated growing interest in ADR, according to Gormly.
"It is clear ADR is a subject finding its way into most areas of tertiary study where people provide professional services," he added.
The Priestley 11 subjects were named after the Law Admissions Consultative Committee (LACC, commonly known as the Priestley Committee as it was chaired by Justice Lancelot John Priestley), which determined the minimum academic study requirements for legal practice in 1992. Two years later LACC published a recommended prescription for practical legal training, known as the Priestley 12.