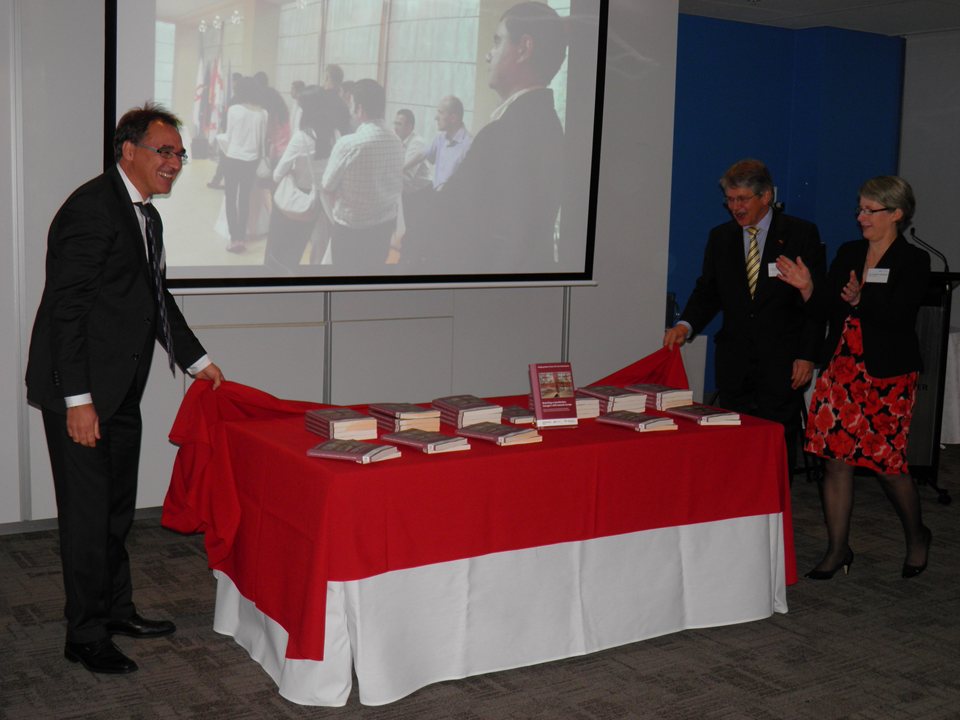 The work of a special counsel at DibbsBarker in shaping the new constitution of Georgia was celebrated at a function in Sydney last Thursday (16 August).
A number of academics and the consul-general of Germany attended the launch of Dr Wolfgang Babeck's (pictured at the launch on the far left with the German consul-general Hans Dieter-Steinbach and Professor Geraldine Mackenzie from Bond University) book Rewriting a Constitution: Georgia's shift towards Europe at the Sydney office of DibbsBarker.
Babeck, a corporate lawyer at Dibbs, has been a leading figure in measures to reform the constitution of Georgia, which declared independence in 1991 following the collapse of the Soviet Union.
In 2010, Babeck chaired a conference in Berlin that brought together many of the leading legal and academic figures in Georgia as part of the country's constitutional reform process and development of a representative parliamentary democracy.
"I studied in Georgia and the Soviet Union in 1991 and I was in Georgia when the first coup d'etat happened (in late 1991) and there was basically a civil war and it was a difficult time," said Babeck.
"When you are a lawyer and you speak Russian and you have been involved in that country you become an expert, whether you want it or not, and I guess that is why they called on me to chair the Conference."
Babeck, the coordinator of DibbsBarker's European desk, said the book took him roughly three years to produce.
"I would say that is only possible because I had a lot of supporters here at Dibbs and I had a number of younger colleagues who did some research for me and helped me to do all that good work," he said when speaking to Lawyers Weekly after the launch.
Also speaking at the launch was Hans Dieter-Steinbach, the consul-general of Germany, and Professor Geraldine Mackenzie, the dean of the Faculty of Law at Bond University.
"Wolfgang has been a great addition to the faculty as we are very international in outlook and we are very pleased to have him and the contacts that he has given us," said Mackenzie.
Babeck has been an adjunct professor at Bond for the past three years.
Professor Steven Fish from Berkeley University in the USA and Dr Avtandi Demetrashvili, the head of the Georgian State Constitution Commission, also spoke at the book launch.