Kirby slams complacency at law school reunion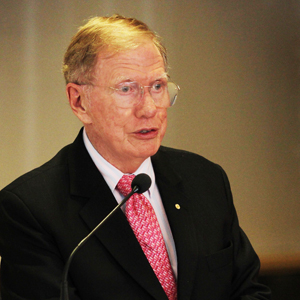 Two former High Court judges were among alumni at the 50-year reunion of University of Sydney law school graduates on Tuesday night (21 August), at which Michael Kirby criticised law students of his generation for not questioning the status quo.
Acting law school dean, professor Greg Tolhurst, welcomed around 29 alumni from the 1962 graduating class to the new law school building on the university's Camperdown campus in Sydney.
Speaking at the event, former High Court judge Michael Kirby (pictured) reminisced about his university days and honoured former classmates whose contributions to the legal profession are well documented. These included former judges the Hon Graham Hill and the Hon David Hodgson who both died in recent weeks.
He also criticised his generation of law graduates, suggesting that they were too complacent about the state of the law in their youth.
"The great reproach to us, as lawyers, is that ...  we did not question the serious inequalities in the law faced by women; we did not castigate the lack of Aboriginal students and graduates amongst us; we never raised the denial of Aboriginal land rights, we did not challenge White Australia [and] we did not agitate for faster independence for colonial peoples," he said.
"We did not – and I include myself – raise our voices for gay rights," he continued. "Our discipline, our lecturers, our history and our legal philosophy mesmerised us into an unquestioning complacency."
Kirby is optimistic, however, that current law students have adopted the fervor that may have been lacking among his classmates.
He is also encouraged by the higher number of women studying law today compared with his graduating class, which included only six women. Kirby pointed out that the law school did not have any female teachers and had never appointed a female dean when he attended university.
"Happily there has now been a woman as a dean of law," he said, referring to Professor Gillian Triggs, who resigned as USYD law school dean in July to take the role of president of the Australian Human Rights Commission.
Murray Gleeson, the eleventh Chief Justice of the High Court of Australia, also spoke at the event on the broad topic of 'change'. To illustrate the extent to which technology had advanced since 1962, he compared a former classmate's tape recorder, which he described as "big as a small car", to the small recording devices available today.
Kirby also commented on Cyril Feilich's "huge tape recorder" that he used to record lectures, as well as the basic facilities at the old Phillip Street law school building in Sydney's CBD.
"We enjoyed no palace of glass and modernity," he said, referring to the new law school building at which the reunion was hosted.
Despite describing student facilities at Phillip Street as "next to invisible" and the law school library as "extremely crowded, dark ... and seriously overheated", Kirby still believes his graduating class was privileged.
"Remembering these days of legal education is a pleasant experience ... we have been lucky," he said.