Brennan dismisses idea of plural legal system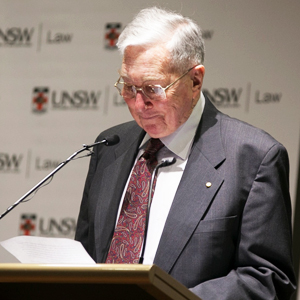 Former High Court chief justice Sir Gerard Brennan dismissed the suggestion that Islamic Sharia law could operate in parallel with Australian law at a university lecture last night (23 August).
At the annual Hal Wootten Lecture, held at the University of NSW law school, Brennan said the idea of adopting a pluralistic legal system that recognises Sharia law is "misconceived".
"No court could apply, and no government could administer, two parallel systems of law, especially if they reflect ... different fundamental standards," he said.
Religious leaders, including the Archbishop of Canterbury Rowan Douglas Williams, have called for 'legal pluralism' that recognises Muslim laws around marriage, divorce and financial transactions.
Brennan claimed that to give effect to dual legal systems would be to confirm dual culture, which would result in "disregard of the law or erosion of the culture, or both".
"Minority practices which offend the fundamental moral standards of the majority have to be abandoned; for there is no community if basic moral standards are in conflict," he said.
Brennan did, however, acknowledge that Muslims in Australia should be free to adhere to the beliefs, customs and practices prescribed by Sharia law as long as they are not in conflict with Australia's common law.
"Sharia should [not] have the force of law," he added.
Quoting the United Arab Emirates Supreme Court, Brennan said the basic principles of Sharia law are provided by the Koran and Sunnah, which refers to the practice of Prophet Muhammad. "These could be considered the constitution in other legislation systems," Brennan explained, and so legal reasoning is expected to agree with them.
But Australian common law is different because it "leaves a gap" between the mandates of law and moral standards, Brennan argued.
"We call that gap 'freedom' and it allows Australian law to protect the cultural moral values of our minorities," he added.
He also drew parallels with Aboriginal customary law, referring to a 1986 report by the Australian Law Reform Commission that stated that the recognition of Aboriginal customary laws must occur against the background and within the framework of the general law.
Brennan, who is well known for delivering a judgement in the 1992 Mabo High Court decision recognising native title, served on the High Court from 1981 to 1998 and as chief justice from 1995 to 1998.
The lecture also featured anecdotes from Brennan's career and a discussion on the need for procedural fairness and community involvement in the judicial system.