ASIC strikes 'dirty deal' in Storm case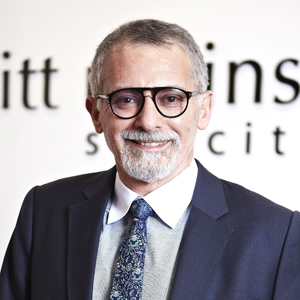 The 11th-hour settlement deal between ASIC and the Commonwealth Bank of Australia (CBA) in the Storm Financial saga was "calculated to inflict damage", according to the lawyer heading up a class action against the bank.
CBA struck a deal with ASIC at 4.22pm on Friday (14 September) – the business day before the resumption of court proceedings, which have now been postponed by a week. The settlement will offer Storm investors up to $136 million in compensation above what has already been paid. While it has been widely reported that investors lost about $3 billion when the financial services company folded in 2009, ASIC has claimed the figure is closer to $830 million.
The deal ends the court battle between ASIC and CBA, but the bank is still fighting a class action launched by Levitt Robinson, which is representing around 300 Storm investors. Stewart Levitt (pictured), principal solicitor at the firm, told Lawyers Weekly that his case has not been weakened by ASIC's decision to settle.
He does concede, however, that the deal was "calculated to inflict damage".
"It was a tactic to try and unnerve the people we represent ... [ASIC] gave us no notice of the position [and] appeared gung-ho about the matter up until the end of last week."
Levitt accused the financial watchdog of engaging in "backroom dirty deals" with CBA and failing to include Storm investors in settlement negotiations.
Under the agreement, investors would recover about 55 per cent of their total loss "allocated to the CBA", ASIC revealed in a statement. The "allocated" amount refers to money that was borrowed from the bank (which provided margin and home loans to Storm investors) to invest in Storm.
This deal is also available to around 1000 Slater & Gordon clients who accepted compensation under the CBA Resolution Scheme in 2010. The terms of the previous agreement included a "carve-out" clause entitling clients to participate in a settlement scheme between CBA and ASIC.
Ben Hardwick, practice group leader with Slater & Gordon's commercial and project litigation group, told Lawyers Weekly that his clients can now "top up their compensation entitlement". These investors will need to account for any cash compensation or loan reductions, but won't be penalised for accepting interest rate waivers, reduced interest rates or flexible loan arrangements, he added.
"[Our clients] have been adequately compensated ... they haven't had to pay any legal costs and they now have a second bite of the cherry," Hardwick said.
He warned Storm investors who plan to decline ASIC's offer and participate in an investor class action that if they lose in court they will miss out on compensation altogether.
"Their destiny will be in the hands of the court," he said.
CBA has not admitted liability in relation to either settlement.
ASIC had accused CBA of acting unconscionably by selling an unregistered management investment scheme to Storm customers prior to its collapse. The regulator revealed it will continue its unregistered management investment scheme proceedings against Storm, Bank of Queensland and Macquarie.
These court proceedings will commence next Monday (24 September).