ACLA reveals In-house Awards finalists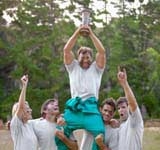 The Australian Corporate Lawyers Association (ACLA) has announced the finalists for the Australian In-house Lawyer Awards 2012.
The Awards recognise excellence in the provision of legal services and the contribution made by in-house lawyers in government and corporate legal departments.
The Awards are judged by in-house lawyers, so winners are honoured with peer recognition.
This year, finalists for Corporate Lawyer of the Year are: Dimitri Kiriacoulacos, group general counsel and company secretary of Centro Retail Australia (VIC), Maria Polczynski, head of group legal at Bendigo and Adelaide Bank Limited (SA) and Angela Taylor, legal counsel and director of legal services at the University of Wollongong (NSW).
In the running for Government Lawyer of the Year are: Sandra Eckert, general counsel at the Department of Regional Development & Lands (WA), Nicole Mayo, director of legal & policy at the Crimtrac Agency (ACT) and Anne Seghezzi, executive director of the Legal Practice Board of Western Australia (WA).
ACLA has recognised young guns Peter Melican, a senior lawyer with the Australian Government Solicitor (NSW), Marisa Muchow, director, business support & certification, with the Australian Building Codes Board (ACT) and Baljeet Singh, legal director at Mineralogy Pty Ltd (QLD), as finalists for the Young Lawyer Achiever of the Year.
The finalists for an award recognising excellence in corporate social responsibility are the Royal Automobile Club of Queensland and Paul Siddle from the Legal & Corporate Affairs department of Premium Wine Brands Pty Ltd (SA).
Groups up for the Legal Team of the Year Award, which must be made up of at least 10 lawyers, are those at AMP Limited, NBN Co and Telstra Corporation Ltd.
Small Legal Team of the Year finalists (teams made up of between one and nine lawyers) are: Australian Health Practitioner Regulation Agency (AHPRA), IPR - GDF SUEZ Australia and Suncorp Bank.
Winners will be announced at the Annual Awards Gala Dinner on 8 November at the Palmer Coolum Resort on Queensland's Sunshine Coast.