Lawyers expect social life at work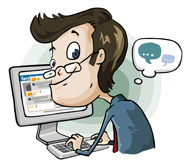 One-in-five legal professionals say they would not accept a job in an organisation that does not allow its employees a reasonable level of access to social media at work, according to the latest Hays Legal survey.
A Hays online questionnaire, completed in March 2012 by more than 870 employers and candidates, found almost 20 per cent of employees would turn down a job if an organisation's Facebook and social media policy was inadequate.
The survey also found that half of respondents accessed social media at work for personal reasons. Of these, 13 per cent said they accessed it daily, while 36 per cent accessed it occasionally.
A PricewaterhouseCoopers study, Talent Mobility 2020: The Next Generation of International Assignments, found that the majority of Generation Y workers want to be allowed time to socialise on personal networks in return for remaining accessible to respond to work-related messages outside standard business hours.
Darren Buchanan, director of Hays Legal, believes law firms should stipulate how social media can be used at work.
"It is important to have a social media policy covering how social media is used for work-related matters, the use of it for personal matters at work, and what employees can and cannot say about your organisation in the social media world," he said.
 "If access to social media sites is allowed during working hours, the purpose of access should be made clear, as should the acceptable level of use."
Broadly speaking, the general consensus on social media use at work is a level of access that does not interfere with your work, said Buchanan.
"So that might be outside core business hours, during lunch breaks, or during periods of low workflow," he said.
Employers seem to agree with the expectations of candidates: 44 per cent agreed that allowing access to social media at work will improve their employee retention levels. Despite this, 43 per cent allow limited access and 23 per cent allow no social media access at work.
The study also showed that one quarter of employees do not have a clear understanding of how to represent their organisation on social media.
While the Hays survey did not divide candidate responses by lawyer level or practice area, Buchanan said the uptake and usage of social media is "huge", especially among, but not restricted to, Generation Y workers.
An estimated six-in-10 people worldwide use social networks and forums and this figure is rising. Founded in 2001, LinkedIn took 16 months to get its first million members, but in 2009 the professional networking site gained one million members in 12 days, according to the UK Telegraph.
"This is an issue that's impacting the whole of the workforce, not just entry-level lawyers," said Buchanan.
The Hays questionnaire results were combined with legal recruiter's own insights to form the basis of a white paper, Tomorrow's Workforce, which explores four key points: the advancement in technology, globalisation of the jobs market, diversity and the rise of the 'orange collar' worker.
"We looked at these points to help organisations and recruiters alike leverage emerging trends to successfully attract and secure the top talent tomorrow," said Buchanan.