Merged firm's global ambitions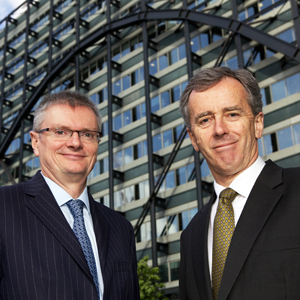 Herbert Smith Freehills, the world's eighth-largest law firm by headcount following the official merger yesterday (1 October), is ramping up its efforts to inch up the global ranks with the launch of three offices planned for 2013.
Gavin Bell (pictured right), joint CEO of what is now the largest fully-integrated firm in the Asia-Pacific region, told Lawyers Weekly that plans for further expansion next year are well and truly underway.
Since the merger was announced in June, Herbert Smith Freehills has opened an office in New York. The firm has also applied for a licence to launch an office in Seoul, South Korea. If successful, the move will cement the firm's place as a powerhouse in the Asia-Pacific, according to Bell. "Over the next decade, [the] Asia-Pacific will increasingly become the engine room of the world economy," he said.
Bell also said that Herbert Smith Freehills needs a presence in Germany. "Germany is a gap for us at the moment," he admitted, blaming the termination of Herbert Smith's alliance with Gleiss Lutz at the close of last year. Herbert Smith decided to cut ties with its German partner less than a week after a failed three-way merger bid with Gleiss Lutz and Benelux-based firm Stibbe in November 2011.
Another Herbert Smith Freehills office is planned for Guinea, driven by the UK arm's growing mining practice,  Bell revealed. But, he added, Australian partners also stand to benefit from expansion in the region. "A number of Australian clients are investing in South Africa ... there is a strong synergy there."
Bell's co-CEO David Willis (pictured left) reiterated that a key priority for the firm is international growth. "We recognise that the firm's global reach, when combined with our industry sector strengths and balance of disputes and transactional expertise, will be the foundation on which we can build strong and deep client relationships."
Herbert Smith Freehills is taking a phased approach to integration. The first instalment focuses on client-facing aspects, such as the firm's branding, website, email system and documentation. A number of internal structures, including its partner remuneration system – a hybrid of Freehills' merit-based system and Herbert Smith's lockstep system – will take effect next financial year.
Ensuring the two legacy firms were ready for the 1 October launch date required significant backend work, Bell revealed. "I've used the analogy of a swan gracefully sailing along the surface, but there's been a lot of peddling hard to get here," he said.
While Bell would not comment on whether he would take the role of sole CEO if Willis steps down at the end of his term in 2013, he did confirm that the firm is moving towards a single head.
For now, Bell and Willis will jointly lead the firm through the transition period.