Renowned law academic passes away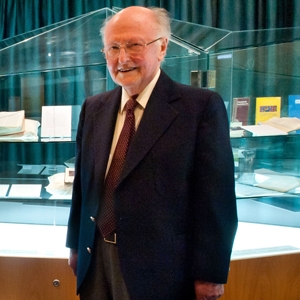 One of Australia's leading scholars of corporate law, Professor Harold Ford (pictured), passed away last week aged 91.
Ford spent almost his entire academic career at the University of Melbourne, where he contributed substantially to corporate law teaching and reform in Australia for more than half a century.
Ford was appointed Professor of Commercial Law at the University in 1962 and served as dean of the Law School from 1967 to 1973.
He was president of the Australasian Universities Law Schools' Association for a year in the mid 1960s and played a key role in the development of the Leo Cussen Institute.
Other initiatives during his time as dean were the creation of the Professional Admission Summer School and preparation of the program for LLM by coursework.
"Neither his keen intellect nor the affection with which he was held dimmed over the years," said the current dean, Professor Carolyn Evans.
The Law School's major scholarship is named after Ford in recognition of his contribution and the respect in which he was held.
During World War II, Ford attained the rank of Lieutenant-Commander in the Royal Australian Navy.
He served on the Manning Committee on Bills of Exchange in the 1960s, while in 1975 he was part of the team that prepared the National Companies Bill. From 1984 to1990 Ford chaired the Companies and Securities Law Review Committee.
He co-authored Ford's Principles of Corporations Law, the most comprehensive and authoritative work on Australian corporate law, which is now in its 15th edition.
In 2000, the Corporate Law Teachers Association conferred the award of First Honorary Life Member on Ford, in recognition of his outstanding achievement as a scholar, educator and reformer.
Justice Kenneth Hayne of the High Court, a former student of Ford, has said in relation to Ford's research:
"All of his work has been marked by the restless questioning and intellectual rigour of the scholar…it has been the measured, incisive, and above all deeply considered, contribution to the fundamental consideration of principle which has marked his work. Few in Australia have made the contribution to legal scholarship that he has made over the years."