Bar survey slammed as 'disingenuous'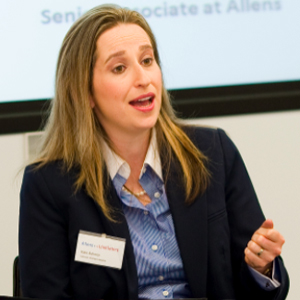 The president of Australian Women Lawyers (AWL) has slammed a new survey that showed men and women are leaving the NSW Bar in equal numbers.
Kate Ashmor (pictured) told Lawyers Weekly that the NSW Bar Association survey, which found the proportion of male and female barristers who left the Bar between 1990 and 2012 to be relatively even, is "disingenuous". She argued that the data is not qualitative, failing to thoroughly investigate the reasons why women are leaving the profession.
"You can't look at the raw numbers, it's not enough ... we need qualitative data," she said. "Without understanding why people are leaving one can't comment in context."
Of the 177 females surveyed (compared to 598 males), 30 per cent cited "unspecified" as their reason for leaving. Ashmor claimed that this figure, combined with the 17 per cent who left to practise as a solicitor, is too high to draw reasonable conclusions on attrition. She also argued that the NSW Bar's assumption that it is safe to assume that those who failed to specify a reason roughly fall within the other specified categories in a similar proportion "has no basis".
"[The NSW Bar] is putting words in those practitioners' mouths," she said, claiming that anecdotal evidence points to numerous other reasons why the attrition rate among female barristers is so high, including the battle for commercial work.
Seeking balance
Another explanation that applies to both men and women is the want of a more balanced life, which some believe working at the Bar can't provide, Ashmor continued.
"The current generation has different expectations, they don't define themselves by their careers and want a balanced life ... so the question is, does the Bar allow for work-life balance?"
Most worrying, according to Ashmor, is that more than a third of barristers who have joined the NSW Bar since 1990 have left the profession. "Any profession that has that kind of turnover rate has some serious problems," she commented.
Ashmor was, on the other hand, encouraged by the finding that almost 10 per cent of the females were appointed to bench, compared with 4.7 per cent of males. Other reasons women left the Bar include "moved interstate/overseas" (37%) and "family" (4%); while the top three reasons given by males were: "moved interstate/overseas" (36%), "unspecified" (30%) and "left to practise as a solicitor" (12%).
In total, 295 women joined the Bar over the past 22 years (compared with 634 men); however, women have made up just 32 per cent of those who undertook the Bar practice course.
This is despite women making up a majority of law school graduates for the past several years, Ashmor pointed out.
Lawyers Weekly approached the NSW Bar Association for comment but a spokesperson was not available prior to publication.