College of Law recognised for combating depression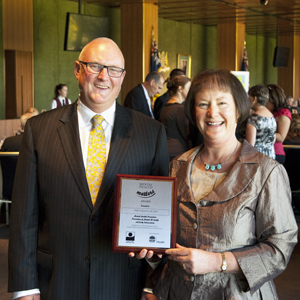 The College of Law has won a prestigious award for introducing resilience programs into its curriculum.
At a ceremony in Sydney yesterday (10 October), the NSW Minister for Health, Kevin Humphries, presented the College with a Mental Health Matters Award in recognition of its introduction of a Well-being & Resilience for Lawyers workshop into its curriculum.
"After attending the first Tristan Jepson Memorial Foundation lecture, Judy Bourke and I were inspired to not only draw attention to the high levels of depression and anxiety in law students and practising lawyers, but to celebrate a program to give students the relevant skills and knowledge to help them maintain their own mental wellbeing and to give them information about mental illness and where to seek help," said Michael Appleby, a lecturer at the College of Law (COL) who created the course with Judy Bourke (both are pictured at yesterday's ceremony).
The COL claims that almost 4000 students have attended its resilience and wellbeing workshop since it was introduced last year.
The Mental Health Matters Awards are co-ordinated by the Mental Health Association.
A number of events featuring prominent members of the legal profession have been held this week to coincide with Mental Health Week, which takes place from October 7 to 13.
Today (11 October), Katy McDonald, the head of people and development at Minter Ellison, will be speaking at the Healthy Mind, Healthy Bottom Line lunch in Sydney.
This lunch also features Professor Alan Fels, the chair of the National Mental Health Commission.
Also in Sydney tonight is the annual Tristan Jepson Memorial Foundation lecture.
Panellists include: John Colvin, a former head of Blake Dawson prior to its merger with Ashurst; former Freehills partner Matthew Stutsel, who is now the national head of state taxation at KPMG; Emma Buxton, a research assistant from the Attorney-General's Department, and Marcus Warner, a specialist change agent consultant.
For full coverage of the Tristan Jepson Memorial Foundation lecture, see www.lawyersweekly.com.au tomorrow.