Kirby reveals women's impact on his career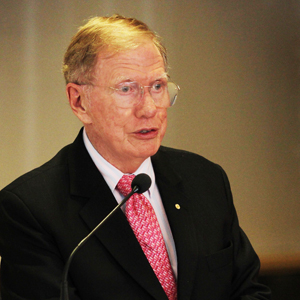 Former High Court judge Michael Kirby told anecdotes about the women who have "profoundly influenced" his career at the BrainLink Women of Achievement Awards luncheon last Friday (26 October).
BrainLink, a non-profit organisation that works to improve the quality of life of those affected by brain conditions, held its Awards event at the ballroom of the Park Hyatt in Melbourne.
Kirby (pictured) entertained around 350 attendees with personal stories that spanned his schooldays right up to a recent trip to Ireland. Many were amusing anecdotes centred around women that had impacted his professional and private life.
He spoke fondly of his primary school teacher, Miss Pontifex, who, along with two other female teachers, were "women of achievement who made a difference in my life".
Kirby then recounted a recent trip to Dublin, where he discovered interesting facts about his two great-aunts. One was a portraitist whose works are displayed at the National Gallery in Dublin, the other a famous botanist, he explained.
To cap off his trip down memory lane, Kirby applauded women like Elizabeth Evatt, the first female judge of the Australian Federal Court, who "blazed the trail and got into positions where they showed women could do anything".
Philip Thomas, chair of Brainlink, then announced the recipient of the 2012 BrainLink Women of Achievement Award. Christine Durham, who suffered massive injuries in a car accident, was honoured for her work as an author, speaker and educator on acquired brain injury.
The other finalists were: Alecia Elbelli, co-founder of ask!, a service that supports women in the Bellarine Peninsula Region who are fighting breast cancer; and Karin Vosmansky, founder of Life's Little Treasures, a support service for parents or families of premature babies.