E&R in the firing line in foreign bribery crackdown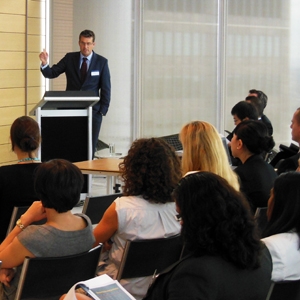 An anti-bribery expert has warned energy & resources companies that they face increased government scrutiny in relation to foreign bribery.
Speaking at an anti-bribery seminar in Sydney yesterday (30 January), Jones Day partner Steven Fleming (pictured at the seminar) said E&R companies are becoming more serious about bribery and corruption now that the Government has begun turning the screw in its efforts to stamp it out.
The warning comes in the wake of the Australian Federal Police (AFP) reopening corruption inquiries into major Australian companies OZ Minerals and Cochlear, after widespread criticism that it was soft in its investigations.
Fleming believes the move by the AFP is a result of government pressure following the OECD stating in October that it was "seriously concerned" with Australia's lack of enforcement of its foreign bribery laws, highlighting that Australian businesses were highly exposed to foreign corruption.
"What we're seeing now really is the impact of that OECD report, because all of a sudden we see two cases, that were previously closed, reopened," said Fleming, a partner in Jones Day's global disputes practice who is currently involved in investigations involving alleged bribes by Australian companies in Cambodia, Vietnam, the Philippines, Sri Lanka and the Middle East.
The OECD reported 28 instances of alleged foreign bribery involving Australian companies. However, since 2006, only one foreign bribery case in Australia has led to a prosecution.
Fleming, who believes the AFP reopening files will signal a more aggressive prosecution approach in the future, said there is a growing understanding of the criminality of bribery amongst E&R companies.
"From our experience, companies are asking us a lot more questions about compliance," he said.
"I think Australian companies had taken the view that it's [bribery] the way you do business in certain jurisdictions … that they would rather not do it but that's the way it is."
"Now, they're getting more serious about it because they know the consequences that will flow, even more so now that they're aware the Australian Federal Police is alive to it.
"I'd be surprised if there's any major Australian corporation that's not alive to these issues going forward."
Fleming said the E&R sector bears a higher corruption risk than most others because it operates in high-risk jurisdictions, such as Mongolia, Africa, Southeast Asia and the Middle East, and operate in markets where government plays a significant role.
He said it's "extremely difficult" to get the adequte reporting systems and corporate governence in place right down to the grassroots level on foreign soil, where there is issues with language and cultural differences.
"The best you can do is to have in place a clearly defined policy, and ensure it's communicated and monitored."
The Jones Day seminar focused on the bribery of foreign officials, the grave consequences of breaking foreign anti-bribery laws both in Australia and overseas, and the importance of implementing compliance programs and due diligence defences.