MPs unsupportive of diversity quotas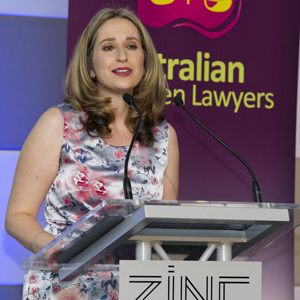 A majority of managing partners believe partnership quotas are less effective than aspirational targets for achieving diversity, the Lawyers Weekly Managing Partner Survey 2013 has found.
A majority of managing partners believe partnership quotas are less effective than aspirational targets for achieving diversity, the Lawyers Weekly Managing Partner Survey 2013 has found.
Of the 20 managing partners, from large, mid-sized and boutique firms, who responded to the inaugural survey, 53 per cent said aspirational gender diversity targets were "more effective than enforced targets"; 47 per cent said partnership quotas were "ineffective", and not one said they were "highly effective" for achieving diversity in the profession.
The president of Australian Women Lawyers, Kate Ashmor (pictured), is a vocal opponent of gender diversity quotas. She labels them a tokenistic, lazy, quick fix; the antithesis of appointment on merit.
"If the firm chooses to go down the quotas' path good luck to them; I think they'll need luck because they will face the inevitable question of quota appointees being possibly tainted," Ashmor told Lawyers Weekly, adding that she is not surprised by the poll results.
Quotas naturally don't sit well with lawyers, she said, especially because they've been subject to a competitive process since high school where rewards and promotions have been based on doing the "hard yards".
However, others see quotas as a means to speeding up the sluggish pace at which gender equity at senior leadership levels is being achieved.
Caroline Counsel, a past-president of the Law Institute of Victoria, said other methods have so far failed to address gender inequalities and create lasting change.
"It's just taking too damn long," she said at the Lawyers Weekly Women In Law Awards last October.
Women account for only around 20 per cent of partners in Australian law firms, despite the fact they make up more than half of all law graduates in the country.
The pace of change in legal partnerships is slow compared to the commercial marketplace, said Baker & McKenzie employment partner Bryony Binns, because partnerships are a different business structure.
"You've got a bunch of people who are effectively becoming business owners, and partners tend to stay within partnership for a long period of time, which is why having quotas is not necessarily appropriate," she said, adding that in a corporate environment turnover of senior positions occurs on a more regular basis.
Taking measurements
Sally Macindoe, the Norton Rose partner and head of diversity who helped the firm double the number of women it had working flexibly and at partnership level, said quotas don't work in terms of achieving a greater representation of women at the leadership level.
"It can lead to a perception that women are appointed to leadership positions because they're the best available women not because they're the best qualified people for the position regardless of gender," said Macindoe.
"If a woman's appointed because she is a woman, but doesn't have adequate experience or preparation for whatever role she's appointed to and then underperforms, it can have a negative effect on the perception of women as leaders."
Macindoe said law firms should "focus on the pipeline" and position both men and women to be the best qualified people for the job.
Targets, she said, are the best option because "what gets measured gets managed".
Ashmor agreed and called for extensive research on the profitability and growth of firms with women on their boards and in senior executive roles.
"At end of the day, law firms will only change because they legally have to or [because] it will make them more money," she said, calling on the profession to put together a business case to show that appointing women on merit benefits the bottom line.
Binns argued: "The nature of what we do is changing and the model of labour supply is changing, so this a really great point for the more traditional service providers to take a step back and look at how the bottom line is affected by the way you employ your labour and retain it."
Fair dinkum
Law firms can back up aspirational targets with real results "by being fair dinkum" with staff: by taking practical steps, such as allowing flexible work arrangements, to give them a fair chance at achieving partnership or a senior management position, said Ashmor.
"I've had many women say to me they'll gladly hand back their paid maternity leave if they can get the flexible hours and quality work after they come back," she said.
The survey also revealed that 100 per cent of law firms surveyed had a return-to-work rate of more than 50 per cent after maternity leave. None of the managing partners surveyed selected the options of: 'less than 20 per cent', 'between 20 and 50 per cent' or 'we don't track those statistics'.
At Baker & McKenzie, the average length of maternity leave taken by staff is 11 months.
Binns, a mother of three, was made partner while pregnant with twins. She took two periods of maternity leave and said that feeling supported by colleagues was crucial to her coping.
For six years she has worked either part time or full time, but flexibly "the whole way through"; when her eldest child first started school Binns worked from home for two weeks to be involved in dropping off and picking up.
Upon reaching partnership, the biggest challenge is shifting focus from "just billable hours, to billable hours, building a practice, market development and, in some instances, firm management positions," said Binns.
"If that occurs at the same time that you're managing a very young family at home it can be very stressful.
"Returning to work, if you don't have very clear support structures … people you can talk to and blow off steam to and continuing involvement in quality work …I can imagine it would be a very lonely and isolating experience," she said.