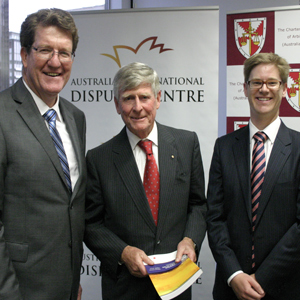 Heavyweight legal leaders were out in force to attend the release of a major tome on the laws governing international arbitration.
The International Arbitration Act 1974: A commentary, by Malcolm Holmes QC and Dr Chester Brown, was formally launched at the Australian International Disputes Centre (AIDC) last night (8 February). Former High Court chief justice Murray Gleeson was the guest speaker, with around 65 legal and arbitration heavyweights in attendance.
Speaking to Lawyers Weekly, co-author Malcolm Holmes said international arbitration was becoming an increasingly important part of Australia's legal landscape.
"Alternative dispute resolution (ADR) generally, whether mediation expert determination or other forms of ADR, is becoming something which the community is increasingly looking at," he said.
Holmes has been involved in international arbitration since 1995. He is currently a member of the UK-based Board of Trustees of the Chartered Institute of Arbitrators, and a member of international arbitration panels in China and Singapore.
He also developed a Diploma of International Arbitration, which he teaches throughout Australia and Asia.
In speaking at the book launch, Holmes said he and Brown, an associate professor at the University of Sydney, developed the idea for the book "over a duck and pinot noir lunch at the NSW Law Society".
Justice James Allsop, the president of the Court of Appeal in the NSW Supreme Court, wrote the foreword to the book.
The book's authors Malcolm Holmes QC (left), and Dr Chester Brown (right), with Murray Gleeson, the former chief justice of the High Court, at the book launch