New High Court judge announced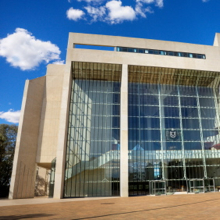 The Federal Government has announced the appointment of Commonwealth Solicitor General Stephen Gageler to the High Court of Australia.
Justice Gageler will replace Justice William Gummow, who retires in October at the compulsory retirement age of 70.
Gageler was in the news last week as the barrister who argued the Commonwealth's case in the plain packaging of cigarettes case before the High Court, which he won.
Gageler also argued for the Commonwealth Government last year on the failed Malaysia deal swap case, which also went before the High Court.
The highest court's newest appointment was previously an associate to former High Court justice Anthony Mason while he was at the High Court.
Attorney General Nicola Roxon said earlier this year that she would cast the widest possible net for the appointment.
"What I want is that people don't think they can only nominate a commercial barrister from Sydney, who's a man," Roxon told The Age newspaper in March.
Roxon said today that Gageler, a predominantly commercial barrister from Sydney, who is a man, was the best person for the job.
The appointment reverses a recent trend, with the past three appointments to the court being women.
If the replacement judge had been a woman, it would have the first time in Australian history that the majority of the High Court's seven judges were female. 
Law Council of Australia president, Catherine Gale, said Gageler's appointment recognises his already distinguished legal career.
"Both in his work as a barrister and as Commonwealth Solicitor General, [Gageler] has been a respected contributor to the Australian legal profession.
"He is a highly regarded and well respected member of the legal profession and will bring to the position of Justice of the High Court of Australia his sound judgment, integrity and well recognised commitment to the law and to social justice issues."