WA firm takes entire litigation practice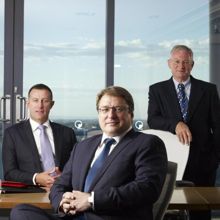 A Western Australian law firm has merged with a litigation expert firm to build its reach in the mining state. _x000D_
A Western Australian law firm has merged with a litigation expert firm to build its reach in the mining state. 
Lavan Legal's managing partner, Greg Gaunt, and deputy managing partner, Dean Hely, with Kevin Stewart (all pictured), managing principal of Maxim Litigation Consultants, today announced the expansion of Lavan Legal through an integration with Maxim Litigation Consultants.  
The principals and staff of Maxim will join Lavan Legal from 2 April 2012. 
The trio said in a statement they believe the integration will create a "formidable legal force in the Western Australian corporate, commercial, mining, energy and resources sectors".  
Gaunt said Maxim has an "outstanding reputation" in all aspects of litigation, particularly in the corporate, commercial, mining, resources and energy sectors.  
Stewart labelled the union with "a certain logical inevitability", Maxim being a litigation-centric practice and Lavan Legal offering litigation as a principal component of its service.   
Stewart said Maxim was the first WA practice to make commercial litigation its sole focus. 
The firms said the Maxim team will strengthen Lavan Legal's fast growing corporate, commercial, mining, resources and energy practices. Hely, for one, pointed to the appointment of partner Leigh Warnick in May 2011, who he said is an experienced corporate, mining and resources lawyers.