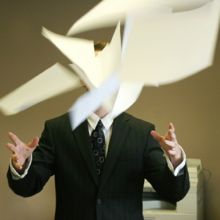 Online training should not be the transfer of textbook to computer screen. Kathleen Gaynor at Slater & Gordon explains how to embrace good online training.
Online training is not (and should not be) the transfer of textbook to computer screen. What's the point? You're still going to end up with sore eyes. Kathleen Gaynor at Slater & Gordon explains how to embrace good online training.
Even as adults, the thought of going back into a classroom can be a daunting feeling. And with time being a major factor (or excuse) these days, online training seems to be the convenient option.
I always feel that the problem with traditional in-person classroom training is that it requires that everyone involved convene at the same time and place, which can be very time intensive in its preparation and facilitation. I'm sure some managers can agree it's like herding cats to a small room.
With access to mobile devices, fast internet and tech-savvy Gen Y, online training is a convenient way to deliver standardised material to a large group of people who spend most of their day surrounded by technology. We can no longer cry that we're time-poor as we travel further into the digital age. Convenience and flexibility is what we expect now. Let's not forget that it's also a much easier way to gain required CPD points.
For lawyers in large firms, your organisation may have developed their own content in-house, which is a great way to ensure consistency across a large number of staff. Smaller firms may like to subscribe to external CPD providers, where lawyers can jump online at a time of their choosing to find out about recent changes in legislation, or to accrue points in compulsory ethics and practice management areas.
Utilising online delivery is great for new lawyers. So many graduates who have finished their studies recently have had access to online lectures and training throughout their degree, so it'll come at no surprise when they find it in their first job. This method also works for new starters and existing staff to gain knowledge on company policies and processes which can result in a significant reduction in the amount of human resource required to ensure that staff are well trained.
Online training doesn't mean you're just reading what's in a textbook online. In fact, the reason why training is heading to the digital age is because interactive media such as videos, pictures and sound can be utilised to its full capacity. Training in any capacity needs to keep the user engaged, and learning. I remember a previous induction kit used to be a folder the size of a textbook.
Embracing online training means lawyers can access courses at the same time, instead of waiting for the first group to come out of the training room to confirm what you already know, how mundane it was to sit there for an hour. The benefit of online training also removes factors such as the delivery of the facilitator and the consistency (or lack thereof) of the content.
Online training, without all the text, full of interactivity is what you should be looking for in e-learning. We all make excuses for not having the time to do something, but creating a flexible and convenient way to learn and earn CPD points will ensure you're kept up to date with the latest information on how to be a better (and happy) lawyer.
Kathleen Gaynor is the learning and development manager at Slater & Gordon.