Cheeky Gavel winner hammers noble judge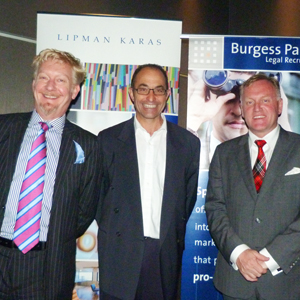 Comparing the looks of an esteemed barrister and judge of the National Golden Gavel competition to those an evil duke did not stop a Brisbane lawyer winning the competition.
Ashurst senior associate Mark McKechnie, 29, took out the coveted annual speaking prize in Adelaide on Friday night (21 September). McKechnie spoke on the topic of "I Withdraw That, your Honour": Five Words Every lawyer Should Know and Why.
Far from looking to suck up to the judges, he told Lawyers Weekly he went the "other way".
"I wasn't going anywhere near insulting the honourable chief justice, but I had a few quips at Anthony Durkin, who was one of the judges, and his resemblance to Richard Roxburgh, and in particular [Roxburgh's] character in Moulin Rouge," said McKechnie, who wisely did not compare Durkin to Roxburgh's portrayal of the 'colourful' barrister Cleaver Greene in Rake. "That little dig got some good laughs and, fortunately, he (Durkin) has a sense of humour."
Roxburgh played the manipulative Duke of Monroth in the Baz Luhrmann film Moulin Rouge alongside Nicole Kidman.
Durkin, a barrister with Villeneuve Smith chambers in Adelaide, was a judge along with the South Australian chief justice Chris Kourakis and Alex Ward, the immediate past-president of the Law Council of Australia and a barrister with Edmund Barton Chambers in Adelaide (Durkin is pictured on the left, with Kourakis in the middle and Ward on the right).
Once McKechnie addressed his topic, allocated to him 24 hours before he spoke, he took the slant that lawyers are in an envious position to be able to withdraw remarks made in haste to members of the judiciary.
"The first thing that struck me is how it is really something that no other profession gets the benefit of: the ability to take a mistake or an embarrassing submission and say 'I withdraw that' and then the court has to effectively pretend it never happened," he said. "So my speech showed how that power is effectively a Jedi mind trick – and then I took it further and applied some silly stories about how you could use that power in everyday life, such as being able to withdraw embarrassing comments you make on dates."
No fancy dress
McKechnie qualified for the National Golden Gavel competition by winning the Queensland Golden Gavel competition earlier this year. On that occasion, he got dressed as Bear Grylls to tackle the topic of Man vs Wild Client – The Bear Grylls Guide to Law.
On this occasion he didn't dress up, and beat a field that included the champions of each state and territory Golden Gavel competition, as well as an additional entrant from South Australia. Each year, the host jurisdiction is allowed two competitors.
"When you work in law you can't take things too seriously," he said. "There are lots of humorous and funny things about what happens everyday in a law office, and if you have a sense of humour about that it certainly helps you get through professionally, as well as providing material if you ever find yourself in a public-speaking competition."
Joel Cook from McCabe Terrill Lawyers in New South Wales came second after addressing the topic of Why Women Lawyers do it Better. Heloise Woodside from the Supreme Court of Northern Territory came third. She tackled the vexed question of How to Lose an Employer in 10 Days.
The National Golden Gavel competition was held at the Adelaide Hilton at the conclusion of the day-long Australian Young Lawyers Conference.
* This article first appeared in Lawyers Weekly.