Celebrating law's leading lights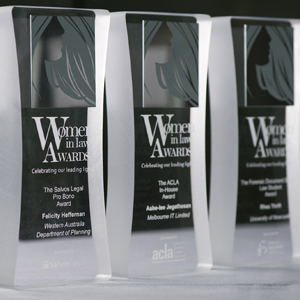 The keynote speaker and the MC at the inaugural Lawyers Weekly Women in Law Awards may have disagreed on diversity quotas, but they were both emphatic that the battle for gender equality in the legal profession is far from over.
The keynote speaker and the MC at the inaugural Lawyers Weekly Women in Law Awards may have disagreed on diversity quotas, but they were both emphatic that the battle for gender equality in the legal profession is far from over.
Caroline Counsel, immediate past-president of the Law Institute of Victoria, delivered an impassioned keynote at the event held at Zinc Bar in Melbourne last Friday night (19 October). She told more than 150 attendees that she supports diversity quotas, claiming other methods that attempt to address gender inequalities have so far failed to create lasting and sustainable change.
"It's just taking too damn long," she said.
In her role at the Institute, Counsel was a powerful advocate for the advancement and retention of women in law and, it seems, her resolve to instigate change has not wavered. She spoke passionately on what she believes is an "alarming exodus" of women from the profession.
"Women are walking away from this great profession of ours in droves within the first five years of graduating," she said.
In her closing comments, Counsel invited delegates to consider the women who should have been in attendance at the evening's Awards ceremony but were "missing in action" due to structural and cultural obstacles to their careers.
"We all need to ensure this changes and those women are back here in this room in years to come," she added.
While Kate Ashmor, president of Australian Women Lawyers, does not support diversity quotas, she echoed Counsel's concerns regarding the high attrition rate among women lawyers.
"We are losing talented women lawyers at an alarming rate," she reiterated.
Currently on maternity leave following the birth of her first child in December, Ashmor claimed the lack of flexible and affordable childcare is a barrier to women lawyers achieving their career ambitions. She also stressed the importance of compiling qualitative research to give diversity campaigns a strong empirical backing, pointing to the Law Council of Australia's national attrition study as a step in the right direction.
And the winner is ...
Ashmor then kicked off the award presentations by announcing the recipient of the Legal People Future Star Award. Rebecca Heath, an associate at Squire Sanders, was named the winner in this hotly-contested category, with the judges remarking on her "stunningly good CV".
Barrister Fiona McLeod's recent work on the Queensland Floods' Commission of Inquiry made her a standout candidate for the CCH Barrister Award, which also acknowledged her work as director of the Law Council of Australia and senior vice-chairman of the Victorian Bar Council.
Felicity Heffernan from the WA Department of Planning said she was genuinely shocked to have won the Salvos Legal Pro Bono Award. But attendees immediately saw why she was so deserving – her personal courage in tackling systemic bullying coming through in her acceptance speech.
Corrs Chambers Westgarth picked up two awards on the evening – the Negocio Resolutions Law Firm Diversity Award and the Jacinta Fish Legal Mentor Award, which saw partner Christine Covington take the stage twice – first, in her role as chair of the firm's Diversity Council and second, for her efforts as a role model and mentor to countless male and female lawyers.
Representing the in-house lawyers in the room was Ashe-lee Jegathesan, winner of the ACLA In-House Award, who was recognised for her leadership of Melbourne IT's legal team and for being a champion of diversity within the organisation.
Also commended on her leadership, both within Norton Rose and in her dealings with clients, was the LitSupport Female Partner Award winner Sally Macindoe, who has been credited with driving a "quantum shift" in how the firm thinks about diversity.
Then Stephanie Puris from King & Wood Mallesons took the stage to accept the Forensic Document Services Law Student Award on behalf of Rhea Thrift, who completed a summer clerkship at the firm. The judges commented on Thrift's academic excellence and involvement in university life as demonstrating a "lift as you climb" attitude.
The formal part of the evening concluded with the announcement of the Allied Recruitment Solutions Lasting Legacy Award recipient, Professor Gillian Triggs. The head of the Australian Human Rights Commission (AHRC) and former law school dean of the University of Sydney was honoured for a successful 40-year career as an international lawyer and academic.
In accepting the award, Triggs underlined the characteristics that make women exceptional lawyers. 
"[Women have] great intellect, great discipline, they have a wonderful ability in articulating ideas ... a very high standard in relation to work for their clients and a very high standard of ethics," she said.
She also took the opportunity to draw attention to human rights issues in Australia, such as the treatment of asylum seekers, which will be an ongoing focus in her role as AHRC president.