Shaping minds and defending rights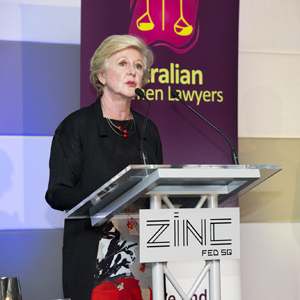 Gillian Triggs has had a profound impact on Australian society.
The recently appointed head of the Australian Human Rights Commission (AHRC) has worked in many different legal roles since she graduated from the University of Melbourne in 1968.
Her decision to go overseas to complete her Masters of Laws in Texas and a subsequent job with the Dallas Police Department, advising the chief of police on the 1964 Civil Rights legislation, demonstrated at a young age the interest in international issues and human rights that would be a hallmark of her legal career over the next 40 years.
"I really learnt about the leadership role of legislation and the importance of viewing things through the prism of the Bill of Rights in the US," she told Lawyers Weekly in August. "I also became very interested in the role of legislation in underpinning basic civil and human rights."
Since her return to Australia in 1975, Triggs (pictured) has acted as a teacher and mentor to thousands of university students.
She spent 20 years as a lecturer, professor, reader of law and associate dean of law at her alma mater, the University of Melbourne, and in 2007 she became dean at the faculty of law at the University of Sydney, after a two-year stint at the British Institute of International and Comparative Law in London.
During her academic career, Triggs established herself as one of Australia's foremost experts on international commercial law, penning books on a diverse array of topics including environmental issues in Antarctica, trade in the European Union and Vietnam and international commercial law.
In accepting the Allied Recruitment Solutions Lasting Legacy Award at the inaugural Lawyers Weekly Women in Law Awards on Friday night (19 October), Triggs commented on Australia's triumph in winning a seat on the United Nations Security Council that same day.
 
"Certainly we don't have a blameless record in relation to human rights and there's a great deal more that Australia needs to do, most particularly in relation to our own indigenous peoples, to the homeless, to single parents, to the poor and of course to asylums seekers," she said.
"Nonetheless, I think we have been a great and very solid international legal citizen and we will continue to ultimately meet the international standards that we help to draft."
Gillian Triggs is a worthy recipient of the Lasting Legacy Award. She has already left a large thumbprint on Australian society, and her current role at the AHRC means she will only become a more prominent figure in the Australian legal landscape in the future.