Asbestos lawyer honoured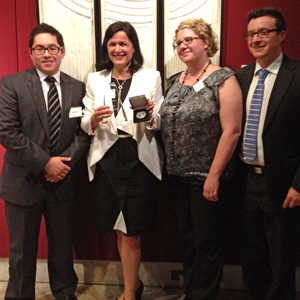 A principal in asbestos law at Maurice Blackburn has won the NSW Justice Medal.
Theodora Ahilas was presented with the annual award from the Law and Justice Foundation of NSW for her outstanding contribution to achieving justice for people with asbestos-related diseases and their families.
It was presented by the Hon Paul Stein QC AM, chair of the Foundation, at a ceremony attended by 400 people at NSW Parliament on 31 October.
Ahilas is principal of Asbestos and Dust Diseases for Maurice Blackburn in NSW and has acted for hundreds of asbestos victims and their families in NSW and the ACT over the past 21 years. In addition to law, Ahilas holds degrees in social work and arts. 
The judges noted in awarding the prize that Ahilas is "a specialist in this area of law, and she is known for her extraordinary compassion and commitment to supporting the families of clients as they deal with the psychological scars of sudden and dreadful diagnosis and death."
Ben Slade, NSW managing principal of Maurice Blackburn, said the award was well deserved and is a testimony to Ahilas's dedication as a legal practitioner and passionate advocate in the area of asbestos-related disease.
She won the prize over eight other nominees.
The Justice Medal is the pinnacle of prizes among seven that were awarded in other categories.