Top firms eye up Barangaroo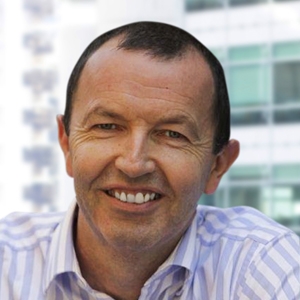 The redevelopment of Barangaroo in Sydney is likely to attract law firms looking for an alternative to their traditional CBD location, according to a new report from real estate giant Jones Lang LaSalle (JLL).
The report, Jones Lang LaSalle's Global Law Firm Perspectives 2012, which was released on 5 November, said that Barangaroo, located on the western edge of Sydney's CBD, will essentially become the city's answer to Canary Warf in London, and could prove an attractive proposition for firms.
"I think law firms will take a good look at Barangaroo," said Steve Urwin (pictured), national head of tenant representation at JLL.
"We haven't seen a development like this before, with a different type of profile: a massive high-quality corporate park that sits on the edge of the city."
Although Barangaroo, which was in the headlines last week when James Packer revealed plans to build a $1 billion hotel and high-roller casino, has yet to gain a law firm commitment ahead of its 2015/2016 completion, the report selected Gilbert and Tobin (G+T) as the most likely contender to make the first move there.
"G+T is a likely candidate, they're one of the boutique firms that operate at the top end of their key markets," said Urwin.
"I think they're a bit quirky and wouldn't mind being seen as a leader by making the move."
When contacted about the possibility of moving to the harbour-front site, G+T said that its lease arrangement in the Citi Building in Sydney expires in June 2016 and, in light of this, "the firm is considering a range of different options".
According to Urwin, Minter Ellison and King & Wood Mallesons (KWM) are two top-tier firms that will be looking at Barangaroo as a potential new home for when their leases expire.
"I think [KWM] is currently exploring its options … I'm sure they'll look at Barangaroo, but whether they'll be willing to move from Governor Philip Tower is another question," he said. 
Urwin believes that the recent spate of global mergers in the Australian legal market could see law firms change their mindset about where to locate their offices.
"I think it will be on a firm-by-firm basis," said Urwin. "In some cases, decisions may now be more globally influenced, while with others, where it is more of an alliance then a full merger, the Australian operation will probably make the same calls and arguably the same decisions."
The JLL report, which charted factors including rental rates, concessions landlords are throwing at firms and how many large blocks of space are available for lease in Sydney and Melbourne, highlighted that rents in Australia are highly variable city-to-city.
In Melbourne, where the Class A vacancy rate sits at six per cent, average prime gross rents are $517 per square metre. Yet in Sydney, with a higher 9.3 per cent Class A vacancy rate, rents remain much higher than Melbourne at $925 per square metre.
"There's always been a huge difference between Sydney and Melbourne," said Urwin.
"It's reflective of everything really: from commercial real estate through to residential property. In terms of commercial rents, Melbourne doesn't tend to have the spikes that you get in a supply and demand cycle that you get in every other city from time to time."
Urwin added that commercial rents in Brisbane come in at around $750 per square metre and in Perth it's closer to $850.
"Brisbane has accelerated ahead of Melbourne. In Sydney, you get more of a rollercoaster effect, so when the market is really tight you'll get an increase in rentals."