Rethink needed on indigenous issues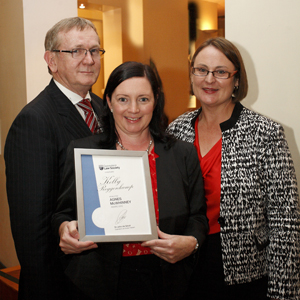 Kelly Roggenkamp, the winner of this year's Agnes McWhinney Award, reflects on her career and talks about why the judicial system needs to understand Aboriginal culture.
Kelly Roggenkamp is not looking for a change.
The Brisbane-based lawyer has been with the Aboriginal and Torres Strait Islander Legal Service (ATSILS) since 1991. In fact, it is the only job she has ever had, landing the role as a law clerk from her first job interview after graduating from the University of Queensland.
"I always envisaged I would work somewhere with a social justice type bent," she said. "I never saw myself working with some of the big riverside firms."
Roggenkamp, who is currently a legal practitioner in charge of Superior Court matters with ATSILS, was rewarded for more than 20 years of service to the indigenous community and legal profession with the Queensland Law Society (QLS) Agnes McWhinney Award at the recent Women Lawyers Association of Queensland Awards.
McWhinney was Australia's first female solicitor.
"Her longevity in such a unique and challenging work environment, coupled with her ability to maintain the highest of professional standards, is testament to her professionalism and skill as a practitioner," said QLS deputy president Annette Bradfield about Roggenkamp.
"I was honoured and humbled and a bit overwhelmed actually," said Roggenkamp about receiving the Award, which now sits proudly in her office.
Roggenkamp regularly deals with tough cases: matters that are deemed serious enough to be heard by a judge rather than a Magistrates' Court.
She regularly travels to prisons to interview clients and briefs barristers on matters that will be appearing in court.
She believes the Queensland judicial system now has more understanding of the issues that confront the indigenous community and the lawyers acting for them as compared to when she first joined ATSILS.
The Queensland Police Service, the Director of Public Prosecutions, Legal Aid Queensland and members of the judiciary itself are all bodies that ATSILS regularly liaise with.
"I know a lot of the current judges sitting on the bench and I know a number of them because I used to brief them when they were barristers," said Roggenkamp. "I know they are well and truly aware of the particular issues that face our clients and I am really glad to see them now on the bench and they will always have that understanding and empathy."
More focus on rehabilitation
The indigenous community has an extremely high rate of incarceration when compared to the rest of the Australian community.
According to the Australian Bureau of Statistics, as of 30 June 2011, the rate of imprisonment for indigenous Australians was 14 times higher than that of non-indigenous Australians. Queensland is slightly lower than the national average, with the rate of imprisonment for Aboriginal and Torres Strait Islanders 12 times the state-wide average.
Mick Gooda, the Aboriginal and Torres Strait Islander Social Justice Commissioner, said last year that the recommendations of the Royal Commission into Aboriginal Deaths in Custody handed down in 1991 had failed Aboriginal people, as the over-representation of indigenous juveniles in jail had increased cince then.
"Given there are a whole lot more people in jail now than in 1991, there was a common agreement that the implementation of the recommendations of the Commission had failed," he said.
Roggenkamp believes that policy makers need to focus more on rehabilitation programs if the rate of indigenous recidivism is to be reduced.
"Our organisation is focused on looking at diversionary techniques to steer people away from the criminal justice system into other rehabilitation programs," she said. "We had some success with the Murri Court in Queensland but unfortunately the State Government has defunded that court.
"I think there could be more work done in terms of different sentencing options as opposed to just imprisonment, but of course all of that depends on state funding and we haven't seen a lot of that at the moment."
A few months ago, the Newman Government in Queensland announced that the Murri Court program, set-up to sentence Aboriginal and Torres Strait Islander offenders who plead guilty to an offence that falls within the jurisdiction of the Magistrates' Court, would be axed.
While ATSILS falls under the auspices of the Federal Attorney-General Department, its staff in Queensland work within that state's judicial system.
"It is sad those options that were being tried have come to an end," said Roggenkamp.
Kelly Roggenkamp is pictured (centre) with the Agnes McWhinney Award with Minter Ellison partner Ross Landsberg and QLS deputy president Annette Bradfield