Hard work anchors successful women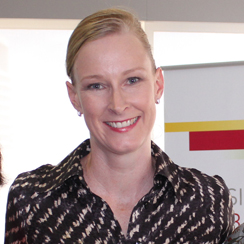 ABC anchor Leigh Sales provided insights into her career and the professional lives of women she has interviewed at a Baker & McKenzie event yesterday (March 20).
Sales, an award-winning author and journalist, said hard work makes up for any lack of natural brilliance in former US Secretaries of State Condoleezza Rice and Hillary Clinton.
"[Rice and Clinton] epitomise discipline," she told an audience of around 100 women gathered for the Kathleen Thornton Memorial Conversation, part of Baker & McKenzie's BakerWomen initiative, which aims to support and inspire women in their career development.
Sales' own work ethic shone through as she described preparing for up to three days for interviews with high-profile people.
"It's almost like cramming for an exam … you go away and you check figures on terrorism and Syria and whatever you're talking about …you need to feel like there's nothing they can say that you're not prepared to be able to deal with," she said.
Her fiery interview with Tony Abbott in August last year won her a Walkley Award for interviewing. Sales admitted, however, that behind the scenes on the day of the interview she felt "shattered", battling sleep deprivation and a cold caught from her now 14-month-old son.
On these occasions, Sales said she tries to remember the plight of women like Colonel Latifa Nabizada in developing countries.
Nabizada is one of Afghanistan's only female military pilots. Her five-year-old daughter has travelled with her on every mission since she was two months old.
"It makes me a bit embarrassed about the seemingly privileged discussions we have in developed countries about work-life balance," said Sales. But, she added, Nabizada's experience doesn't trivialise the challenges women face in developed societies.
Conversation starter
Debate about gender diversity and equal pay for equal work was kicked off in a big way last year by Princeton lecturer Anne-Marie Slaughter. Her article entitled 'Why women still can't have it all' described Slaughter's personal difficulties in juggling family life with a demanding job in the US State Department, and her decision to ultimately quit that job.
Marissa Myers' appointment as the CEO of Yahoo! and her recent ban on working from home also kept debate bubbling along.
"I have some sympathy for [Myers'] position because I think when you have a company that's not going well, you want people to be together to build a common sense of purpose," said Sales. "I do think it's useful to have people ... together to spark off each other creatively and build a sense of team."
"But if I'm working with someone who's particularly talented and I want them to stick around, frankly I don't really care how they structure their time."
Sales rejected the argument of Facebook's COO Sheryl Sandberg that women may not take big jobs due to a fear that the role won't be 'child friendly' if they choose to have kids.
Sales fell pregnant one month after taking over Kerry O'Brien on 7.30 and gave birth at age 38. She said she resents the way that discussions are often based around women with children and the way that children affect their workplace opportunities "as if [others'] experiences aren't quite so important".
"It's pretty irritating if you find yourself never getting Christmas off because everyone with kids has first dibbs on it," she said.
"When we talk about women, it's not just women with children, it's all women."