"I can't imagine my life without her"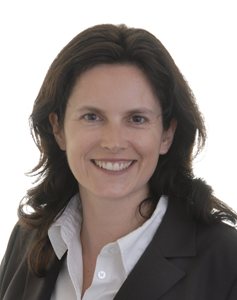 Tributes have poured in for Elisabeth Ritchie, a partner at HWL Ebsworth, who died last month.
Ritchie (pictured) died on 22 March after a battle with lymphoma cancer. She was 45.
Her death has rocked the Sydney office of the firm, where Ritchie was based, with a large contingent of colleagues and former colleagues among the 300 to 400 mourners at her funeral last week.
"Within the firm there has been a terrible sense of shock and a period of sadness from many, many people," said Joe Hurley (pictured), the head of the firm's shipping and trade practice. "To say she was taken too young would be a gross understatement."
Hurley first met Ritchie when they were both students at the University of Law in Guildford, south-west of London, in the late 1980s, with a firm friendship soon forming between the pair. He was instrumental in luring her across to HWL Ebsworth from the Sydney boutique practice Baybridge Lawyers in 2007.
"I came to Australia some 19 years ago knowing nobody, and she and her then partner and now husband (Patrick) were very good and kind to me and became my family here because I didn't know anybody," he said. "She didn't change much in those years when progressing from a student to a partner at HWL, but her taste probably improved somewhat," he said with a chuckle as he recalls the music and fashion of that era.
"She was the type of person that lived life to the full."
Ritchie was a senior partner within the firm's retail and franchising team, and served as a national board member and NSW State President of the Franchise Council of Australia.
In a previous statement, HWL Ebsworth lauded Ritchie's "professionalism, integrity and dedication to her clients as an inspiration to her fellow partners". Many of those clients also attended her funeral to pay their respects.
"After the funeral there was a celebration of her life at her family home, and I spoke to one man who I had never met before," said Hurley. "It was clear he had started a franchise business 19 or 20 years ago with one store, which has now grown to around 200 stores.
"He said, 'I can't imagine my life without Liz being there to hold my hand'. "From a professional and client perspective, I couldn't think of a much higher accolade than that."
Award honours her memory
HWL Ebsworth managing partner Juan Martinez described Ritchie as "great to be in business with and manage".
"She was always part of the solution, not part of the problem," said Martinez. "She was one of those really nice people that don't make a big deal about the value she added. She just went about being valuable in the place."
Even though she was seriously ill for around one and a half years prior to her death, Ritchie remained as a visible presence within the partnership and the retail and franchise practice.
An address she made at a partners' conference late last year moved many partners to tears.
Martinez said the dedication and commitment she showed to the firm with her work, and the courage she showed in fighting lymphoma cancer, served as an inspiration to many of her colleagues.
In commemorating Ritchie, Martinez said the firm's Living our Values Award in Sydney would be renamed the Elisabeth Ritchie Living our Values Award.
"The key attributes we look for in those people [award recipients] is courage, and Liz personified that in her battle with cancer, respect, mutual respect, effectiveness in life and honesty.
"They are the key attributes we look for in people to be future leaders in the Sydney office."
Ritchie is survived by her husband Patrick and her teenage daughter Tara.