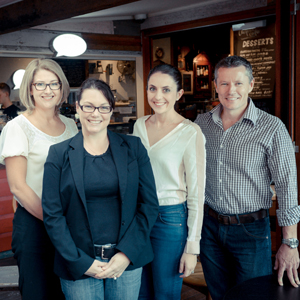 A Brisbane firm has shed three partners as part of a plan that seeks to encourage a more informal environment and dress code.
Hynes Lawyers is attempting to restructure the firm to reduce costs. The firm currently has around 35 lawyers, but it is seeking to reduce its permanent legal staff by almost half to 20, with seven or eight contractors to be employed on top of that on a flexible basis.
Lawyers who will not be part of the future of the firm include partners Warren Jiear, Bill Singleton and Warwick Walsh.
"We have been looking at a new business model for a number of years now," said the firm's managing director Robert Hynes (pictured, far right) when speaking to Lawyers Weekly.  "The future as we see it is around having a small operational core."
Jiear is moving to Piper Alderman, Singleton to HWL Ebsworth and Walsh to McCullough Robertson.
The firm will begin operating under its new structure and reduced size from 20 May, when it moves into new premises in Brisbane in St Pauls Terrace.
In addition to moving to a new location, the firm is also looking to concentrate on a handful of practice areas.
Energy & resources, corporate management rights and the aged-care sector are viewed by Robert Hynes as its "core competencies".
Hynes said the new premises and strategic focus will also allow the firm to implement a new pricing and internal management strategy.
 
"We are looking to move away from timesheets and reduce hourly rates across the board by an average of 15 per cent," he said. "There will be permanent seating for permanent staff but hot-desks for our contractors."
Hynes said the new office will be open plan and encourage an informal dress code that will "drop the suit and tie".
Hynes denied the restructure was a bid to slash costs or a sign that the firm was struggling.
"This is the opposite," he said.  "What this move is about is trying to get the platform right to grow."
Flexible future
Hynes Lawyers currently has a dozen staff in the Philippines that work exclusively for the firm via a legal process outsourcing (LPO) arrangement.
The firm also currently has a number of alternate fee arrangements in place for clients and operates a paperless office. At its new premises, it will move its practice management software "completely into the cloud".
Hynes said that firms need such flexible policies or they face the threat of going under.
"By making our cost structure lower we are also trying to future-proof the practice," he said. "We have a view the legal profession is in for some tough times ahead and the current model of legal practice will struggle in the future, particularly with the rise and rise of LPOs."
The firm will close its administration office in Sydney as part of the restructure.
From 20 May, the firm will be known as Hynes Legal.
*Pictured from Hynes Lawyers (L-R): Julie McStay, Samantha Solomon, Angela Vidler and Rob Hynes