Oz delegation spruiks arbitration in US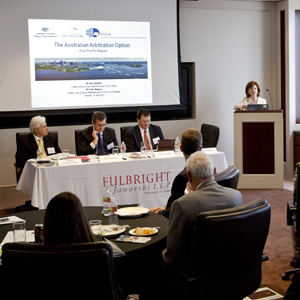 Federal Court Judge Lindsay Foster joined a delegation of lawyers and government officials who visited Houston and San Francisco to promote Australia as a neutral arbitral seat for cross-border disputes.
The delegation took part in road shows hosted by The Houston International Arbitration Club and the Northern California International Arbitration Club on 14 and 16 May, respectively.
Alex Baykitch, a partner at King & Wood Mallesons and a fellow of the Australian Centre for International Commercial Arbitration (ACICA), was part of the delegation. He told Lawyers Weekly that the US cities were selected because they are a direct flight from Sydney.
"Distance is a factor for certain clients based in the northern hemisphere," he said, admitting that this can make it challenging to attract international arbitration work to Australia. He added, however, that direct flights from Houston and San Francisco to Sydney are bridging the distance.
Speaking at both events, Baykitch told US attendees that Australia is "a great place" to host an international arbitration due to its independent judiciary, quality lawyers who specialise in arbitration and a court system that tends to be pro arbitration.
ACICA president Doug Jones told Lawyers Weekly in March that Australia's judicial system is supportive of international arbitration in the wake of the High Court's dismissal of a constitutional challenge to the International Arbitration Act.
Other road show participants included: Peter Megens, King & Wood Mallesons partner and ACICA vice president; Kelly Sims, investment commissioner of Austrade in San Francisco; Charles Correll, partner at King  & Spalding and president of the Northern California International Arbitration, and Richard Deutsch, president of the Houston International Arbitration Club.