ABL celebrates a decade in Sydney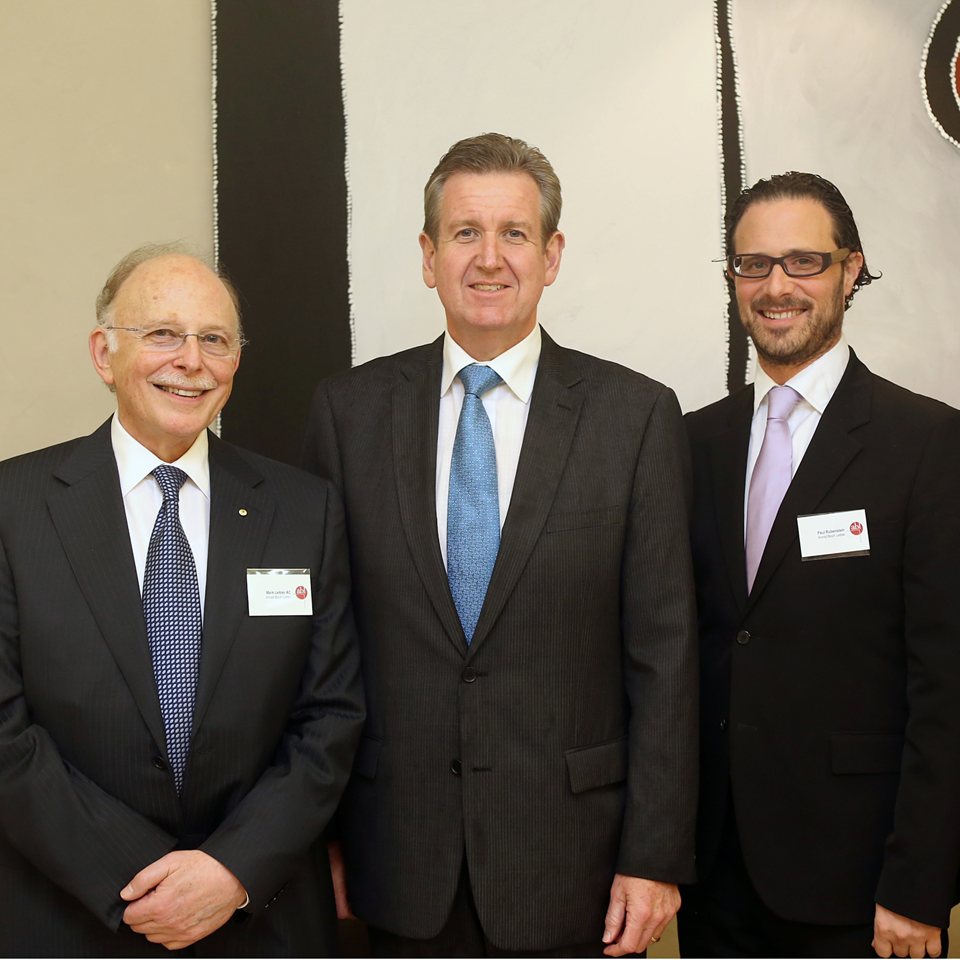 Remaining an independent law firm is seen as critical to protecting Arnold Bloch Leibler's clients as the firm celebrates its 10th year in Sydney, its managing partner has said._x000D_
Remaining an independent law firm is seen as critical to protecting Arnold Bloch Leibler's clients as the firm celebrates its 10th year in Sydney, its managing partner has said. 
Sydney managing partner Paul Rubenstein (pictured right) said ABL's independence was important to the way it does its 'lawyering'.
 "We're very protective of our clients; we don't want to be beholden to any interest. We want to be fierce about acting for whoever we're acting for," said Rubenstein.
He said the firm has no plans to merge, or to expand outside Sydney and Melbourne, where it was established 60 years ago.
NSW Premier Barry O'Farrell (pictured centre) joined more than 150 guests at a cocktail function to mark the Sydney office's milestone on Monday night (27 May).
"Clearly, for Arnold Bloch Leibler, life began at 50, because in that year the firm decided to leave a provincial capital south of the Murray and move to where it should all have been happening here in Sydney," said O'Farrell.
In the keynote address, O'Farrell reflected on his experience growing up in Darwin.
"He recounted a lot of his classmates were indigenous people and, unfortunately, a very large number of them [have passed away] from kidney disease … He used that as a talking point for the value of education and why he feels passionate about what he's done," said Rubenstein.
Senior partner Mark Leibler (pictured left) was the co-chair of Reconciliation Australia from 2005 to 2011, and in 2008 ABL become the first law firm to launch a Reconciliation Action Plan (RAP).
The firm has a full-time partner focused on pro bono work, particularly in the aboriginal and Jewish community, said Rubenstein.
"We acted for the Yorta Yorta people for years and they went to the High Court, so that's been a source of great satisfaction," he said.
The firm also acted pro bono for Tony Abbott last year in the defamation case brought against him by prominent union boss John Setka.
Rubenstein said he was not aware of why the firm was involved in that matter.
Setting up in Sydney
In 2003, Rubenstein travelled up from the Melbourne office with an articled clerk to build a commercial finance practice for Arnold Bloch Leibler in Sydney.
"We had a few lawyers there already because we were involved in some large litigation at the time around the HIH collapse," he said.
The firm has since established itself in the debt restructuring and insolvency space. It has acted in major matters, including the Centro, Channel Nine and Alinta Energy insolvency and restructuring deals and various collapses in the agri-businesses sector.
"We've been involved in a couple of High Court cases that have come out of those things, including the James Hardie trial recently; a Supreme Court case that's now going to the High Court relating to Willmott Forests, and the Sons of Gwalia decision," said Rubenstein.
The firm now has 10 partners in Sydney and around 40 staff altogether.
 "We wanted to preserve the culture so we recruited one by one; a few partners have been lateral but generally we haven't really gone for any big heavy-hitting partners, like other firms have done."
When asked about the challenges of the last 10 years, Rubenstein said retaining women in legal practice has been something he has struggled with.
"I think in law it's particularly challenging because of the nature of the work: it's very time-focused and demanding so finding a way to integrate women into the practice and not let them go is really [important]," he said.
"We've also seen some really challenging clients and matters ... Thankfully I haven't gone grey yet, or bald, but some other people around here have."