Letter from Allens riles Maurice Blackburn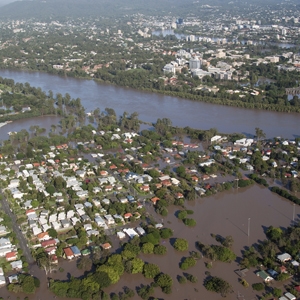 Maurice Blackburn is still waiting for an apology from Allens Arthur Robinson or its client after it was wrongly accused of making false representations to the Queensland Floods Commission of Inquiry.
Last Wednesday morning (8 February), Allens sent the Commission and Maurice Blackburn a letter alleging that a private investigator employed by Maurice Blackburn, Bob Munt, had falsely represented himself to be acting for the Commission when speaking to a witness.
Maurice Blackburn and litigation funders IMF are currently putting together a book-build with regard to launching a class action on behalf of residents from Fernvale and the Surrounding Communities Action Group against the owners of the Wivenhoe Dam.
Fernvale, in the Lockyer Valley around 60 kilometres from Brisbane, was devastated by the floods that hit Queensland in 2010-11. Over 70 per cent of the state was affected and more than 30 people died.
On 17 January 2011, the Queensland Government announced an independent Commission of Inquiry.
Allens is acting for Seqwater at the Commission. Seqwater is south-east Queensland's bulk water supply provider and the owners and operators of the Wivenhoe, Somerset and North Pine Dams.
Brisbane-based Allens partner Michael Ilott wrote the letter to the Commission alleging that Munt had behaved dishonestly. However, by the afternoon of 8 February, Allens withdrew the allegation after Maurice Blackburn released recordings which proved that the allegation was false.
"At no time did Mr Munt state that he was a representative of the Floods Commission of Inquiry," said Maurice Blackburn principal Damian Scattini. "Mr Munt plainly stated that he was a representative of Maurice Blackburn which is acting for flood victims at the Commission of Inquiry."
Scattini also wrote to Allens requesting an apology for raising the unfounded allegations.
Maurice Blackburn solicitor Paul Watson and Allens partner Bill McCredie are also involved in the inquiry.
The following day (9 February), Darryl Rangiah SC, instructed by Maurice Blackburn, told the Commission that the false allegation had been very damaging to Maurice Blackburn, and that Seqwater's conduct had been "disgraceful".
"No one from Seqwater has had the common decency or courtesy to apologise to Maurice Blackburn for the false accusation," said Rangiah.
A spokesperson from Maurice Blackburn confirmed with Lawyers Weekly that no apology from Seqwater or Allens had been forthcoming since Scattini wrote to the firm.
"It's inappropriate to make any comment regarding matters in the Commission while the process is ongoing," said a spokesman from Allens when contacted by Lawyers Weekly.
Final submissions to the inquiry are being made this week in writing, with the Commission's final report due on 16 March.