G+T makes it a double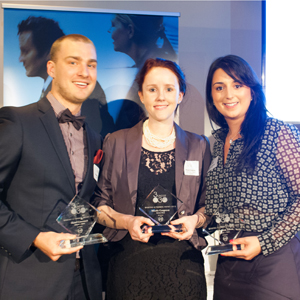 Two Gilbert + Tobin lawyers were among the three winners of the hotly-contested Banking & Finance Award.
Stuart Cormack from the firm's Sydney office and Catherine Zahra from its Melbourne office, alongside Norton Rose Fulbright senior associate Nicola Cosgrove, took home the trophies from the inaugural Lawyers Weekly 30 Under 30 Awards on Friday night (14 June).
The Banking & Finance Award, proudly sponsored by EA International, was the only Award category in which one firm had multiple winners.
Zahra and Cormack stood out, not only for their professional experience, but also for the initiative and leadership they have already displayed within their firm.
As well as being on his firm's team that advised the bank syndicate in the last four public-private partnerships in Australia, Cormack implemented a new 'market update policy' to encourage the banking & finance group in G+T to produce and publish articles.
"The impact from these articles is clear to see. We have had clients (current and prospective) following us up for more information and further advice in relation to topics on which we have produced articles," revealed Cormack.
Zahra, who was G+T's first lawyer in its banking practice in Melbourne, helped to establish a series of networking events for young people at the firm called 'Tonic'. She also established and co-ordinates G+T's 'Deal Tracker', an internal networking site used by the firm, which enables lawyers to track the progress of deals within the market.
In addition to working as a senior associate at Norton Rose Fulbright, where she has acted on a number of major matters, including a four-and-a-half year Supreme Court case involving the successful defence of an insolvency practitioner, Cosgrove is currently studying for a Masters in Business Administration, but skipped university classes in order to attend the Awards.
"I had to contact them to get an exemption from attending tonight," she said at the Awards. "It's hard [to balance working and studying] but the skills I'm learning in the MBA are making me a much better lawyer commercially."
Cosgrove had a big contingent of supporters from Norton Rose Fulbright with her on the night: "I felt very honoured [to win the Award] because of all the amazing people who were nominated. I also felt very honoured that a number of members of my team came to support me; it was great."
The other finalists in this category were Tony Chen from Corrs Chambers Westgarth, Kevin Lu from Ashurst and Jessica Huston from Norton Rose Fulbright.
Pictured (l-r): Stuart Cormack, Nicola Cosgrove and Catherine Zahra