Small proves mighty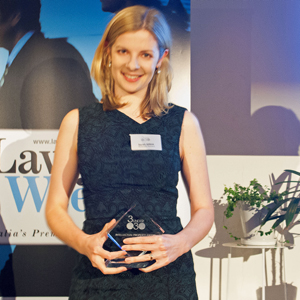 Lawyers from two boutique firms beat competition from national and global firms to take out two of the three Awards in the Intellectual Property category.
Nicholas Tobias from Griffith Hack and Sarah Gilkes (pictured) from mdp McDonald Partners were winners, alongside Corrs Chambers Westgarth associate David Fixler, at the inaugural Lawyers Weekly 30 Under 30 Awards on Friday (14 June).
Tobias, an associate, said he was "absolutely delighted" to win the Award.
"It's an amazing feeling," he said after he got his Award. "It's really great to see the boutique firms getting some recognition – two of the three Awards tonight for IP went to boutique firms so it was really exciting to see that boutique firms is where it's at."
He added, however, that he didn't think boutique IP firms had any advantage over big firms in this highly-specialised, technical area because the larger firms had "great" IP practices.
"I think it's just a different kettle of fish; the big firms have strengths in many areas whereas we try to concentrate our strength in one area and we do a good job at it."
Tobias has acted on a number of high-profile matters, including providing technical IP support for the lawyers for Samsung in its proceedings against Apple. He is also an active member of AusBiotech, an organisation that provides initiatives to drive sustainability and growth in the biotechnology industry.
Melbourne-based senior associate Gilkes has had primary responsibility for more than 50 matters in the past 12 months, assisting clients in identifying, protecting, commercialising and enforcing their intellectual property. She is often a client's key point of contact and the main person representing them in their negotiations with third parties.
She thinks lawyers need to be more commercially-minded and said: "By being prepared to provide practical and commercially-relevant recommendations to clients, the relevance of the legal profession to the current business world would improve."
Fixler, at just 27, was second-in-charge to Corrs Melbourne partner Stephen Stern on a major patent infringement matter involving Fosters. He also set up and runs the Corrs IP group's Twitter account and is currently completing a Master of Laws, with a focus on IP, at the University of Melbourne. He has also dedicated more than 270 hours to pro bono work and was nominated last year for the Lawyers Weekly Burgess Paluch Pro Bono Award.
He said: "Clients expect that we will have particular expertise in our chosen areas of specialisation, such as IP, but also be well-rounded lawyers with broader legal experience."
Other finalists in this category were: Emma Bekens from Norton Rose Fulbright, Elisabeth Koster from Minter Ellison and Cecillia Suatan from Ashurst.